Take a tour of local flora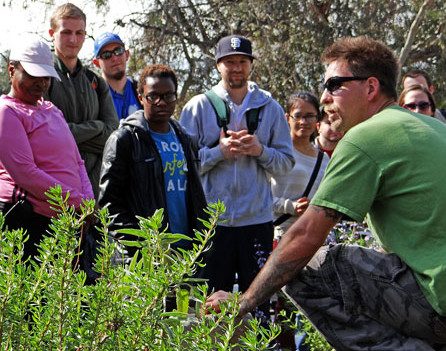 The LMC Nature Preserve staff is working to create a true California experience by reorganizing the plants according to where they would actually be found throughout the state.
"We are going to do a biome idea, with Southern California on the south side and Northern California plants on the north side," said Mark Asher, the Biology Department's Instructional Assistant who runs the Nature Preserve.
According to Asher, you will not have to guess where the plants are from because they will be organized by area. It will be like taking a walk through California.
There will be a southern desert area on the south end of the preserve, northern woodlands closer to the college at the north end, an east side chaparral and a west coastal biome, said Asher.
Sue Erickson was the caretaker for the first 10 years and "laid out the preserve the way it is, as far as path wise and the way it looks," said Asher adding, "The preserve was put together randomly when it started."
He and Instructional Aide Michael "Mickey" Rovere have been working out a plan to get the nature preserve organized.
"I don't think it is going to be difficult, just education wise we have to know now where all the plants were originally born," Asher said. "As soon as we know where to put it, that's when we make our soil."
Not all of the plants can grow in the same conditions, Asher explained. Some plants die with over-watering and all plants need different drainage; some need well-drained soil, others need moist or dry soil. For example, he said, riparian plants are water loving and they have been put in an artificial stream for them to grow in.
Asher's main strategy for keeping all the plants healthy and alive, even though they all naturally live in different environments, is prayer.
"We do the soil textures to the best of our ability but with environment, ambient temperatures and things, we are at the grace of God," said Asher.
LMC Biology Teacher Ron Gallin brings his environmental class to the Nature Preserve for on-campus field trips. "It will be good to see the diversity of plants found in California," he said adding, "When arranged according to habitats, biomes, they become a useful teaching tool for ecology."
According to its website, losmedanos.edu/nature, the preserve was developed by the Environmental Biology and General Biology classes of Professor Christine Hagelin over several years and the preserve is home to more than 65 native California plants.
The plants that aren't native to California, such as some of the trees, were there before it was established in 1999, explained Asher. None of the existing plants in the preserve will be moved, but for educational purposes they will be labeled, letting people know where they are normally located.
"Since we double back as an outdoor biology laboratory, we also have to base education on the preserve, so within these areas we have to keep specimen that we can use for plant biology, ecology, evolution and possibly horticulture," said Asher.
The preserve is going to be expanded at the south end to give them a clean slate, said Asher. But if they have to pull something out, it will be chopped into little pieces and used for propagation to make new plants.
Asher is also working to get a new amphitheater put on the north side of the preserve for biology classes to use for lectures. He also plans to make the water system at the preserve strictly fresh water.
The new water system alone will cost $4,500 and because the preserve is not funded by the Biology Department, the money will have to be generated through plant sales and donations, said Asher, and volunteers are needed to help do the work.
"I would love to bring classes there for lecture sessions, what a great setting to learn about the environment," said Gallin.
The Nature Preserve is not just a teaching tool. There are picnic tables and benches that students can use to study, eat lunch, or just hang out and enjoy the scenery.
"We provide an area for students to learn, fellowship and earn credit for their discipline in college," said Asher. "The Nature Preserve is an open area for all to enjoy."
Yari Wiggins, an environmental biology student that went to the Nature Preserve for a field trip, said "I will definitely return on my own." She added, "I feel it's a calming place to study for tests or get some reading done."
"Mark and Mickey deserve a great deal of credit for their hard work, innovative thinking and love of nature and learning," said Gallin. "I will enjoy seeing the Nature Preserve, and its inhabitants grow and develop."
If you would like to visit the Nature Preserve, it is located on the west side of Parking Lot B, south of the College Complex.
View Comments (1)