Noel is new Academic Senate President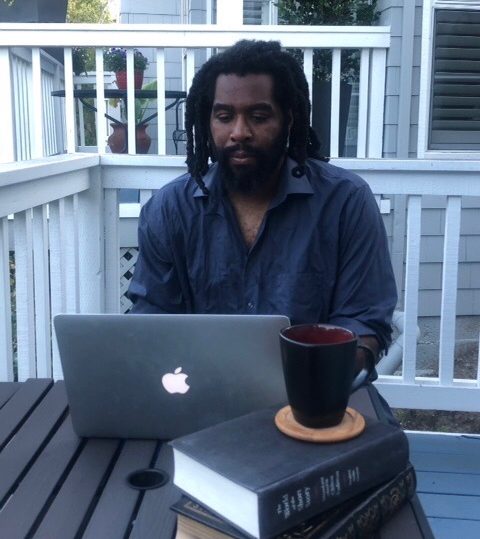 Professor James Noel was elected Los Medanos College Academic Senate president earlier this semester when he ran unopposed to succeed current president Joshua Bearden, whose two-year term is coming to an end July 1. Faculty describe Noel as thoughtful and team oriented, and they expect him to be a steady hand during a difficult time.
"I look forward to Dr. Noel sharing his high level of collaborative knowledge with the LMC Senate," said former Academic Senate President Sylvester Henderson.
Fellow English professor Jill Buettner also expressed her confidence in Noel's leadership.
"He is a thoughtful person and a hard worker," she said. "He is level-headed and truly listens to people."
Noel has been an Academic Senator since he first joined the ranks of LMC's faculty in 2014, and he now desires to take his Senate work to a new level.
"I wanted to serve the college in a different way," said Noel, who has been training by shadowing Bearden in his presidential duties until he assumes full responsibility in July.
The new faculty leader was born and raised in Southeast London and came to the states as a teenager for a student exchange program which placed him in Modesto. He returned to Modesto to attend community college, where he got a start in college-level basketball. After earning his associate's degree, he took a scholarship to play basketball and study English at Master's College, a liberal arts school in Southern California.
After graduating, Noel played professionally for a few years in the British Basketball League. When a car-accident injury ended his basketball career, he moved back to London and enrolled in a doctoral program at Goldsmiths University to secure his Ph.D.
He was drawn back to the states where he worked for publishing houses like Penguin and Walker, and he eventually started teaching English at Modesto Junior College and Diablo Valley College before settling into his full-time position at LMC.
Noel credits his experiences on the basketball court for teaching him how to persist.
"In sport, you've got to be able to persevere and lose at the buzzer on a Wednesday and win a game on a Friday," said Noel. "Sport taught me how to persevere."
Noel also noted that his basketball career taught him about the importance of helping others.
"In order to function as a good team, you've got to be able to lead at times," said Noel.
As LMC's new faculty leader, Noel has three main goals: accurately represent faculty in all professional matters assigned to them by the state, improve learning for all students and faculty, and employ equitable practices on campus.
His first goal in representing the faculty means that he will accurately represent LMC faculty in 11 key areas, known as the 10+1, which include establishing curriculum, setting degree and certificate requirements, determining grading policies, laying out processes for institutional planning and budget development, and setting college governance structures, among other things.
Noel's goal to improve learning is based on his belief that "without students, there would be no college."
His goal to employ equitable practices on campus is reflected in his previous work at LMC. Noel has been involved with and taught classes in the Umoja Scholars Program, which is committed to enriching, fostering, and nurturing the educational experience primarily for African American and first-generation college students. Noel has also facilitated several workshops around equity.
Noel said his biggest challenge moving forward is dealing with the impact of the Coronavirus on student and Academic Senate matters.
As a professor and English Department Composition Coordinator, he has seen firsthand the impact the pandemic and the campus closure has had on student learning.
"I think this experience has taught me some students … really do value face-to-face teaching," he said.
Noel also acknowledges the challenges that online learning creates for student equity, citing potential needs for laptops, internet access, work spaces and tutoring.
"What does equity look like virtually?" Noel asked. "That's a tough question."
Noel also said that the Coronavirus has complicated the work of the senate. He expects issues around funding and budget. Just last week Gov. Gavin Newsom released the May Revise to the California budget, which anticipates a 10 percent reduction in community college funding.
"It's not the easiest time," he said.