New family normal for two professors
Arcidiacono-Kaufman and McCarthy are mothers
Despite the bleak nature of the COVID-19 pandemic, both Los Medanos College biology professor Briana McCarthy and speech professor Marie Arcidiacono-Kaufman were beyond excited to welcome their newborns into the world May 7.
Although the professors' due dates were originally two weeks apart, Kaufman two weeks before McCarthy, they ended up in the hospital on the exact same day.
"We had joked throughout our pregnancy that if my son came a little late and her daughter a little early we might possibly have the same due date, but we never actually thought it would happen! When professor McCarthy told me she was going in to have her daughter and then my labor began I thought: 'Oh my gosh, it's actually happening — the babies could actually share a birthday!'" said Kaufman.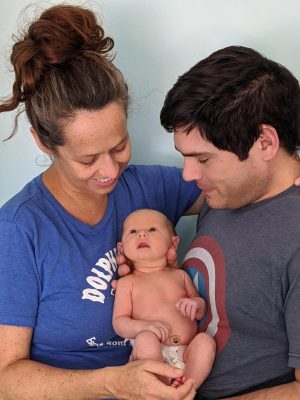 Constantly texting each other updates, Kaufman and McCarthy were convinced that their babies would be born together May 6 when they both went into the hospital. Much to their surprise, both children were born the following day, May 7.
"Marie had already gone into labor when I went to the hospital on the advice of my OB for gestational hypertension," said McCarthy. " I assumed they both would be born on the 6 when labor and delivery informed me I would need to have a C section as soon as possible that night. However, due to some other hospital emergencies, the surgery was pushed back till after midnight, and I had my baby on the 7. Marie went through a very long labor and had her baby later that same day. It was such a pleasant surprise to know we'd be sharing this exciting date forever!"
Violet Sky McCarthy-Armour, MCarthy's first child, was born May 7 at 7lbs, 3oz.
Much to the moms' surprise, Kaufman's first child Wyatt, also weighed in at exactly 7lbs, 3oz.
"It was crazy surprising to me that my baby weighed the exact same amount as Professor McCarthy's. What were the odds of them being born on the same day and weighing the exact same? They were only one inch apart in length too," said Kaufman.
Since the birth of their children earlier this month, Kaufman and McCarthy have been in constant communication, providing one another with as much support as possible during the continuous shelter-in-place.
"Marie and I text each other in the middle of the night sometimes to give each other emotional support related to all the first-time parenting woes. I couldn't have done this without her," said McCarthy.
Although their babies have not been able to meet yet, both moms have high hopes for the future and plan on meeting when the shelter-in-place is lifted.
"Once the [shelter in place] is lifted, we hope to be able to go on socially distanced and safe stroller walks with our babies together. It's been great to have someone to text with "new mom" concerns or questions or just have someone who legitimately knows exactly what you're going through on a day by day basis," said Kaufman. "It was amazing to have Professor McCarthy along for this very wild ride, 'Pregnant in a Pandemic' as we referred to it."