Play breaks the beat down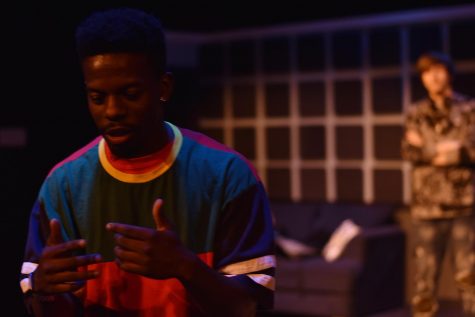 Student-produced play "Hype Man" is hitting LMC theaters Thursday, Oct. 10.
The play was originally written by American playwright Idris Goodwin, and is directed by Terrance Ivory.
The play features only three characters: Pinnacle (Jason Wolcott), Verb (William Thompson) and Peep (Kayla Martinez). The story tackles contemporary issues like gun violence and race through the lens of music.
From the playbill, "Frontman Pinnacle and his hype man Verb have been making Hip-Hop together since they were kids. Now that they've got top-notch beatmaker Peep One in the mix, the group is finally on the verge of making it big—until the police shooting of an unarmed black teenager shakes the trio to its core, and forces them to navigate issues of friendship, race, and privilege. The latest from break beat poet and playwright Idris Goodwin (HOW WE GOT ON), HYPE MAN asks us: who has the responsibility to speak up in the face of social injustice?"
Performances will be held at the LMC Little Theatre Oct. 10, 11, 12, 14, 17, 18, 19, 21 at 7 p.m. and Oct. 16 at 10 a.m.
Tickets are $10 with high school or middle school ID, $12 with LMC student ID and $15 for general admission.