Clubs create Carnevil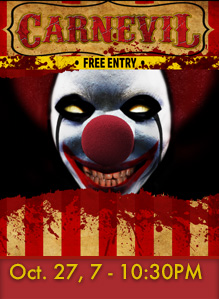 The LMC Office of Student Life will be holding a free Halloween event next Friday, October 27 from 7:30 to 10:30 p.m.
The event is free to enter and serves to entertain attendees and fundraise for the school. The College Complex's second floor will serve as a hub for games and food while the first floor will be transformed into a haunted house. Themed after clowns, the aptly named Carnevil is a feature that Student Life Associate Micah Judah assured the Experience would certainly scare attendants.
"We're trying to improve upon last year. We're going for more scares and more effects," Said Judah.
"You can expect to be scared out of your mind on the first floor."
Judah also noted that the event would be the result of multiple clubs and organizations on campus. The Office of Student Life has partnered with Shenanigans, a drama club, and the LMC Honors Club for the event.
Adrian Montemayor, Student Life Associate and coordinator for the event indicates that working with Honors and Shenanigans has made the planning process smoother.
"It takes a lot of stress off my back having them around," Montemaoyor said. "It really cuts down on prep time."
Montemayor also worked on the haunted house last year. He was surprised when he was approached to do another Halloween event this year, but the change in planning has made all the difference. "Seeing how smoothly it's going and how much larger it's gotten — it will probably become an annual event," said Montemayor.
Aiding in the smoothness of the event planning, many Honors Club members have volunteered their time and resources to help assemble sets, work the haunted house and simply help in whatever way they can. Shenanigans is lending a major hand as well, supplying actors and effects.
Shenanigans member Stephanie Lutz is working to make sure these effects are as good as they can be. "We've been offering services such as scare actors and lighting filters," said Lutz, elaborating that the lighting is an incredibly crucial part to an event.
"It's the embellishment to the event," Lutz said, "and my goal with every project is to create a lasting experience."
With the three groups collaborating, Carnevil is shaping up to be a grand success. To learn more about the event, visit the Office of Student Life in the GA building (the portable next to the Child Development building.)