Finding her own way
Natasha Garcia finds her real passion
If you blink too fast, you just may miss her. With her calm demeanor and skillfully winged eyeliner, Los Medanos College student Natasha Garcia is always on the run.
Garcia has gained the titles of Los Medanos College Associated Students (LMCAS) Vice President, Inter Club Council (ICC) chair and Drama Department makeup artist during her last two years at LMC.
Looking at her life now, people may think she's always had it all together, but it wasn't always this way for her.
Growing up she was taught by her parents to become an academic-oriented person who took their education seriously.
"Both of my parents are from Mexico and they had to leave school at an early age," said Garcia. "Ever since they told me about their experiences, I decided to take that and use it for my wellbeing as a human and to give back because I saw their struggle growing up."
Although grateful now for her value of education, she cites her focus on school as one of the things that kept her from fully coming out of her shell.
"I feel like I was really obedient throughout elementary, middle school and high school. I just focused on academics alone and that was it. My social life … was never at a level where I wanted to be a part of student government," said Garcia.
Like many LMC students, she initially hated the idea of coming to community college because she felt she had more to offer.
"The first two years [at LMC] I was super alone … I just took my classes, went home and went to work. I did that for a good two years until my last year here," said Garcia.
Despite her loneliness, she found herself switching majors from Biology after exploring her interests and finding herself fascinated with the study of psychology and human interaction.
"Taking general ed courses, you're not going to love every subject, but there's going to be one that just hits you," said Garcia. " I hit that point when it came to reading research papers and just finding out more about how we operate as humans and how the mind works. That's how I fell in love with psychology."
Finally in a major she felt excited to be in, she began to become more and more frustrated with the state of the world, giving her the push she needed to speak up and make a change in herself and the world around her.
"I decided I needed to snap out of it. That's when I started to become more involved as a student. I realized if I continue [on] this pathway of just doing nothing, and not creating a change, I feel like I will become that sheep that's unsatisfied with their life," said Garcia.
One of the changes Garcia has made recently has been in relation to food accessibility for students by launching a local discounts project with LMCAS this semester.
"I think a basic necessity like food is something that we still struggle with today," said Garcia.
Garcia expressed how her experience in psychology has been a useful tool in understanding others and helping her communicate with a diverse group of people, such as in her job at Sephora where she works as a makeup artist.
"I remember when I did my Sephora group interview. There was me and six other people and all those other people worked at a beauty counter. I was working at Jamba Juice," said Garcia. "I know there's always going to be someone better than me, but it's the way you talk and perceive yourself and have that spark in you that may be different from the next candidate."
She cites her involvement with the theatrical productions at LMC as her big step into makeup artistry.
"I was at Peet's Coffee one day on Lone Tree Way and I met with Cesar [Reyes] who left last year. I heard him have a conversation about different productions going on and I was just taking notes … I stopped them and I said 'do you guys need a makeup artist?" she said, explaining how she first became involved in the Drama Department.
Following that interaction, she met with the stage manager for the next production to start preparing looks for the show.
"The first production I worked on was 'Ole for Hollywood' two years ago," said Garcia. "It kind of brought me out of the box because I had to work with such a great variety of people."
A couple weeks following her first experience, she learned about her nomination for the Kennedy Center American College Theater Festival (KCACTF), a weeklong event with workshops and competition for drama students.
Despite this being her last semester before transferring to CSU East Bay, she expressed wanting to leave LMC with a long lasting change.
"I do want to come back to Los Medanos to serve either as a Student Life Coordinator or to work in counseling, but I feel like I have a lot of opportunities ahead of me that I don't even know where I'm going to go," said Garcia.
As the final weeks of her career as an LMC student dwindle away, she encourages others to talk to her and get to know her whenever they see her on campus.
"Come by, poke me on the shoulder and just have a conversation with me," said Garcia.
Leave a Comment
About the Contributor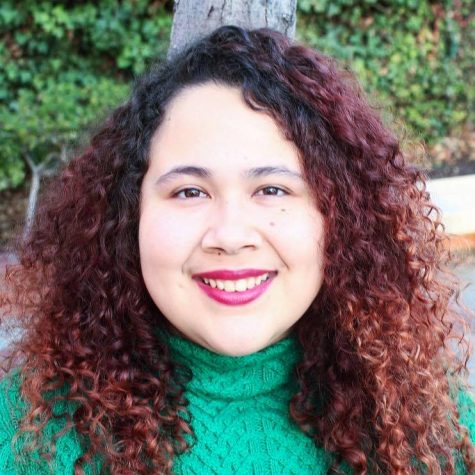 Beatriz Hernandez, Editor in Chief
My name is Beatriz and this is my last semester at LMC. I am a journalism major and I hope to transfer to UCLA.