'Block' beats expectations
The Little Theater nearly reached capacity Monday night, April 20, for a showing of the new hip-hop musical "My Block," written by Los Medanos College student Federico Bartolo.
Bartolo was inspired to write the musical after meeting Kennedy Center American College Theatre Festival's keynote speaker Daniel Banks, the founder and director of the Hip Hop Theatre Initiative, last spring. The initiative uses hip-hop theatre to promote youth self-expression and leadership training.
After writing his first song for the musical at KCACTF, Bartolo was challenged by LMC Drama instructor Nick Garcia to write a full-length musical and he completed the script in three months.
Knowing it was a student-written show made me all the more interested in seeing how well his vision could be portrayed on stage. I was already impressed by Bartolo's ability to write a full-length production in just three months. But actually being able to see his creation performed on stage while knowing the hard work and determination behind "My Block" made watching it all the more worth it.
Still, I was admittedly unsure of what to expect from the production. As I stepped into the Little Theater I saw the stage instantly transformed into a liquor store that looked like it could be found in any neighborhood. The show is about the struggles that can come from living in a bad neighborhood and what happens when a man named Raphael, known as Raphie, falls in love with his best friend Poncho's sister, Simone.
The actors and dancers did not disappoint. I was surprised and impressed by the talent each cast member possessed. The musical found the right mixture between comedy and drama. The dancers were able to keep the audience entertained by freestyling and performing short choreographed routines in between scenes.
Although the tone of the production felt a bit old school to me, the characters are relevant to people of today, and, while the characters weren't completely realistic, their characteristics are relatable. We all know someone as stubborn as Simone and Poncho, or an adult filled with wisdom, such as Mr. Washington.
The show also included a soundtrack that, musically and lyrically, sounded like old school hip-hop and rap. Differing from modern rap and hip-hop, the music was used as a way to tell a story.
See the first international hip-hop musical performed in the Bay Area while you still can. "My Block" has three more showings, April 24, 25, and 27, all starting at 7:30 p.m.
Tickets will be $7 for college students and those with military ID, $10 for the general public and $5 for high school students with an ID.
Leave a Comment
About the Contributors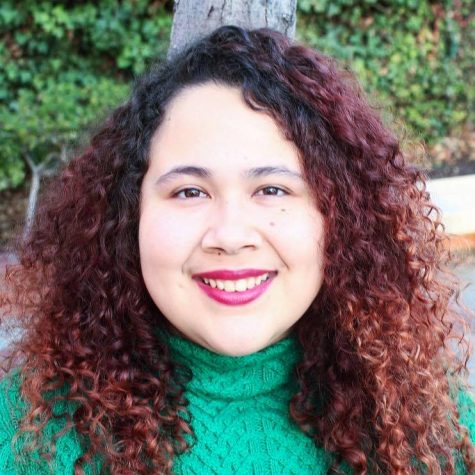 Beatriz Hernandez, Editor in Chief
My name is Beatriz and this is my last semester at LMC. I am a journalism major and I hope to transfer to UCLA.