Sweet Child of Light paints a better realm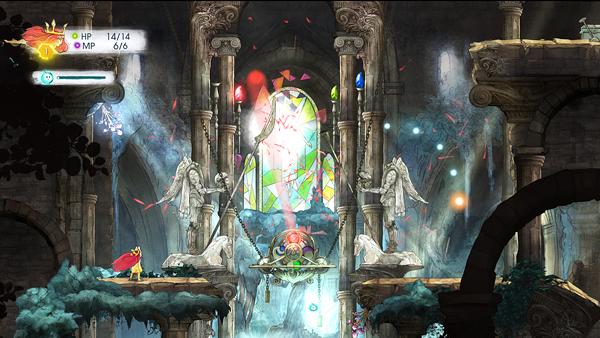 Child of Light, the most recent release from Ubisoft, is a stellar game. The side-scrolling epic is visually exhilarating, while having a superb ambient soundtrack.
From seeing the trailer for the game, I was excited to experience the world of Lumeria.
The main character, Aurora, is an Austrian princess, who seemingly passes away one night, only to awake in a strange land.
She must trust her new guides, specifically a firefly named Igniculus. As she travels the realm, she teams up with misfits of Lumeria to help reveal her fate, why she ended up in Lumeria in the first place, and the fates of loved ones.
These friends will also help her in battle. The game utilizes a variety of styles, from being a side-scroller to an RPG with an Active Time Battle system. The battle sequences are reminiscent of the Final Fantasy franchise, and realm travel is very fluid.
Every element is stunning; the background and active items are all painted in a watercolor style, which lends itself to being beautifully crafted.
I enjoyed the characters greatly; all of the playable characters are customizable with upgrades coming with each level increase.
Each person and animal in the game is also depicted in the same artistic style as the rest of the realm.
If I had to pick on any aspect of the game, the dialogue between characters leaves a little to be desired at some points. The game is played out like a poem, with almost every line rhyming.
This inevitably leads to some discord between phrases in the goal of being consistent.
Overall, the ethereal atmosphere that the graphics and sounds created is incredibly enjoyable to experience. I would definitely recommend that people at least try this game; you will not be disappointed.
Available on most platforms, including Xbox; Windows; PlayStation; Wii U, the game is accessible to the majority of gamers. Child of Light cost a paltry $14.99, which is a tremendous bargain.
Leave a Comment
About the Contributor
Joseph Delano, Contributor
Hi! My name is Joseph Delano. I am 27-years-old, hailing all the way from Bethel Island. I have been at Los Medanos College for 8 years… for you math...