"My Block" reaches farther
"My Block," the original musical that recently ended its run, came from Los Medanos College's own student Federico Bartolo III.
"This is my first musical, and my first attempt at ever writing a musical, but I'm glad I took the challenge," said Bartolo, who has written other plays.
The idea of "My Block" came to Bartolo in February of 2014 at the Kennedy Center American College Theater Festival. After having the opportunity to meet Idris Goodwin and KCACTF keynote speaker Daniel Banks, who are both a pat of the Hip-Hop Initiative that works to develop acting skills with hip-hop culture influences, Bartolo learned how hip-hop is slowly making its way into the theater world. Shortly after the encounter the first song performed in the play, "Can't Do It," was created.
"My Block" is a reflection of common choices and consequences. According to Bartolo, the musical tells the struggles and consequences that come from the decisions we make in our everyday life. Each character embodies a new struggle and the actors portray the message of the characters through relations in their own lives.
"The actors are being truthful to the characters because they can relate to their character off of the stage," Bartolo said.
Actors were chosen through a short audition process and those with the ability to sing or rap were encouraged to come try out. The actors within the musical showed promise and filled out the idea of the characters.
Among the cast was rising comedian and LMC student Lenard "The Kyd" Jackson who is no stranger to performing on stage. Jackson has performed with big names such as Kevin Hart, Tommy Davidson and Luenell and hails from a performing arts high school. Jackson said he was excited to be a part of this original production.
"This [musical] is the first of its kind and I can guarantee that this will be something that they have never seen or heard of before," said Bartolo.
Since its opening night, "My Block" has been getting attention and the word has been spreading.
"As the show went on the ticket sales got better," said Drama teacher and director Nick Garcia. "The last night sold out."
DVDs of the play can be purchased through the LMC Drama Department — the soundtrack is also on sale.
For more information contact Garcia at [email protected] or visit losmedanos.edu/drama.
Leave a Comment
About the Contributors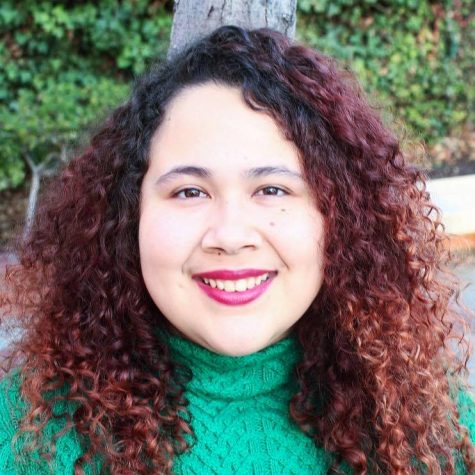 Beatriz Hernandez, Editor in Chief
My name is Beatriz and this is my last semester at LMC. I am a journalism major and I hope to transfer to UCLA.