'Midsummer' coming this spring
LMC gets ready for comedic release
The LMC Drama Department is working to bring the famous Shakespeare play "A Midsummer Night's Dream" to the LMC community and will be performed at the Little Theater on campus beginning March 18 at 7:30 p.m.
"A Midsummer Night's Dream" is one of the most widely performed plays written by William Shakespeare and has been performed nationally and internationally since the 17th Century.
The play is about the adventures of four young Athenian lovers and a group of actors called the mechanicals in a play-within-a-play who are controlled and manipulated by the fairies of the forest.
As one of Shakespeare's most recognizable comedic plays, Drama professor and director Barbara Norris knew it would be a good chance to bring Shakespeare to the LMC community.
"The timing was right," explained Norris, "I had a million possibilities for casting."
She chose "A Midsummer Night's Dream" because it would be an enjoyable play for both the cast and the audience.
"Shakespeare can be very fun and with the right people it can be very interesting," said Norris.
The hardest part about putting on this play, according to Robert Dunn, who plays the lead mechanical Peter Quince, is memorizing the archaic language.
This is the first time that the LMC Drama Department has had the chance to produce a play by the famous playwright since Drama Department
chair Nick Garcia has been at LMC.
"We don't really delve into Shakespeare as much as we should," added Du'Praiseja Smith, playing Hermia, one of the four Athenian lovers.
She explained that as actors they need to find a way to represent their character in a way that everyone understands and to get the message across.
"You can find similarities between yourself and a character," said stage manager Marina Ketchum, "If you have never seen a Shakespeare play, this is a great show."
"A Midsummer Night's Dream" opens March 18 and runs through March 19, 20, 21, 23, 26, 27 and 28 at 7:30 p.m. with an 11 a.m. showing on March 25.
Tickets will be $7 for students or those with military ID, $10 for the general public and $5 for high school students with an ID.
Leave a Comment
About the Contributors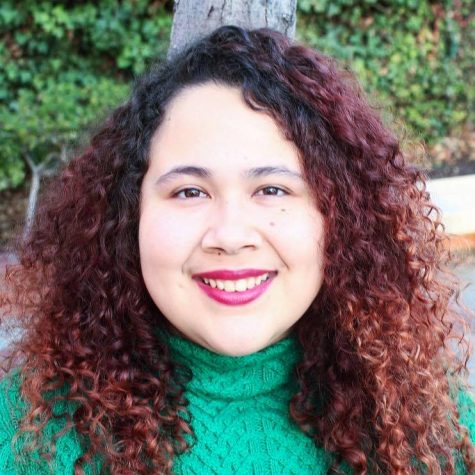 Beatriz Hernandez, Editor in Chief
My name is Beatriz and this is my last semester at LMC. I am a journalism major and I hope to transfer to UCLA.