Double feature release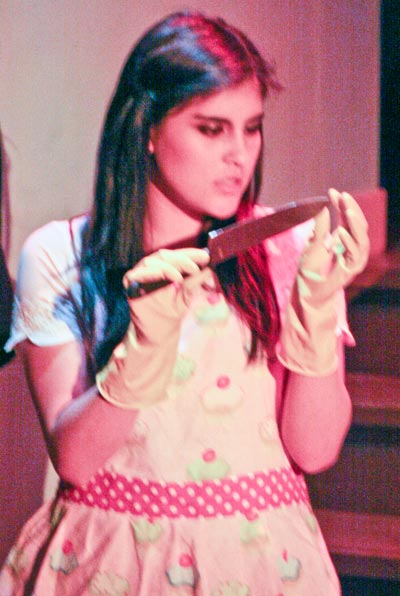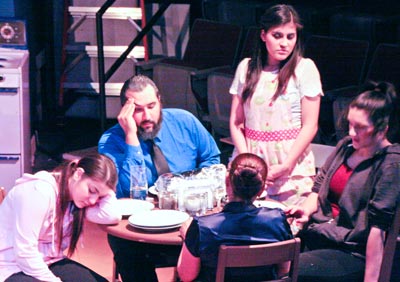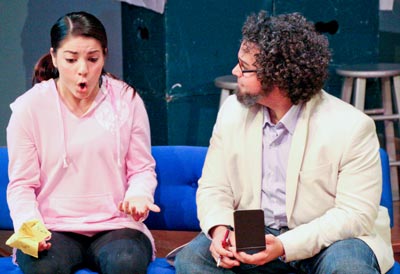 Photos by Cathie Lawrence.
Los Medanos College's Drama Department is now showing "Daddy's Little Girl" and "Descending into Darkness", a double feature, both of which are plays written by students.
"Daddy's Little Girl" was written by LMC student Fernando Bartolo and is about a middle child named Angelica who feels unappreciated in her family. She cooks, cleans, is well mannered and yet to her parents she is constantly overshadowed by her two sisters.
When it all becomes too much for Angelica she creates a diabolical plan to finally become daddy's little girl.
Natalia Philbin's (Angelica) performance was riveting. She stole the show with her craziness and electricity. I enjoyed this play and the family unit was very believable.
They all had chemistry with one another and convinced the audience that they could actually be related. This play has plot twists that will keep you guessing and keep you glued to your seat.
Alexia Moreno, who played the younger sister Monica, was spectacular and really shined as the 12-year-old creative artist. Her acting really stuck out to me and brought me to tears in the end. "Daddy's Little Girl" is a classic drama with some twisted insanity thrown in.
"Descending into Darkness" is written by LMC student Dee White and is about Tyler who has split personality disorder. I found this interesting since there was another actor playing Daemon, Tyler's other personality.
The play is about Tyler dealing with the consequences of Daemon's actions and trying to find a solution. This play was bloody, maniacal, shocking and unbelievable. I would see this play a million more times if it were possible.
Konnor Heredia portrayed Tyler and Lenard Jackson portrayed Daemon. I was highly impressed with both of these actors; they did a lot of things in sync with each other, since they are supposed to be the same person.
Lenard's performance made the entire play for me; he was perfectly insane, and scared me to the point of strange intoxication.
The only complaint I have for this play is that there was not enough blood for me. There was a good amount of it, but I feel there still could have been more.
Over all, I think both plays were impeccably done and I am actually surprised that the Drama Department created something this great. I now have even higher standards for the Drama Department and only expect more greatness to come.
Leave a Comment
About the Contributors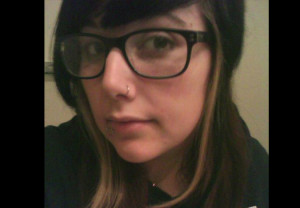 Stephanie Pattison, Web Editor
My name is Stephanie and I am currently on the LMC Experience Staff as the Web Editor for the online version of The Experience. My major is Journalism...