The new normal – Day 15
Editor's note: "The new normal" is a continuing series that looks into how members of the Los Medanos College community are coping with a shelter-in-place order amid the COVID-19 pandemic.
Associated Students President Thyra Cobbs is one of the hundreds of Los Medanos College students affected by the statewide shelter-in-place order that will now last longer than the original April 7 end date — and perhaps surpass May 3.
Cobbs' life has changed drastically since the transition to online courses, as she is currently enrolled in 16 units and works at the Center for Academic Support as a tutor.
"All of my classes have transitioned onto Zoom/Canvas and I can't go to work anymore," she said, adding that three of her classes are Honors.
Though she cannot physically go to campus anymore, the Center for Academic Support will offer virtual tutoring, which means Cobbs can still tutor for Psychology, "just through Zoom."
As the president of LMCAS, an Honors student and an Umoja scholar, Cobbs' average daily routine used to consist of being at LMC from 8 a.m. to 5 p.m..
"Now I have a lot more time," she said, adding that she is "trying to utilize this quarantine time to develop good habits so when we return, I can hit the ground running."
Those good habits consist of making a daily agenda to outline her day, and utilizing various planning techniques so she is always on top of her work.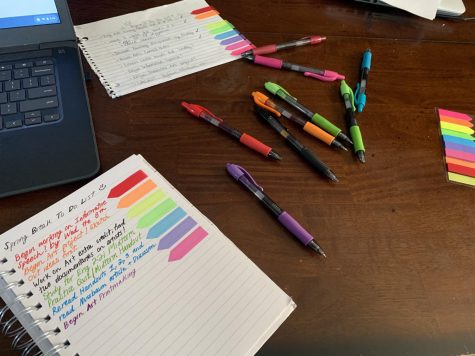 "I use the colors of the rainbow to signify the sequence that I should follow; whatever is red, is due first," she said. "I have always been very organized because I have a lot to do on top of student government, but this is quite surprising."
Given that she is taking multiple classes in addition to her other commitments, nerves were high when Cobbs was told all courses would switch to online. But two weeks into her new normal, she has a different perspective.
"I was afraid to switch to online but I think I like it a lot now," said Cobbs. "I can do the work at my own pace, and it seems that I have more work but being at home makes up for it."
With her newfound free time, Cobbs finds herself more relaxed.
"I take a lot more naps than I usually do, which can be good or bad," she said. "I think online classes make me less stressed because I'm not running all over the LMC campus trying to do a million things… I'm just at home looking at my chrome book and drinking coffee.
The campus is still closed to students and staff, but student resources are available now online, and Cobbs has been taking advantage of that. She has been keeping in touch with Umoja coordinator Jamila Stewart and her counselor Faith Watkins throughout this transition as well.
"I still try to utilize the resources as I normally would," she said, recounting her recent experience on Zoom with an LMC librarian, "so that I could get help on my research for class."