LMC player signs fake National Letter of Intent to Texas Tech
Teammates of Los Medanos College defensive back Tre'vante Daniels were excited after he posted a video of himself signing a letter of intent to play football at Texas Tech University.
"It was not surprising at all. He worked hard to get in the position where he is at now. He was grinding all throughout the season," said teammate Javier Hernandez. "He was very confident and aware of the player he was and came out big when we needed him most."
But LMC head coach Chris Shipe said he could not confirm Daniels' commitment to Texas Tech.
However, the Texas Tech athletic department said the institution did not have a valid NLI from Daniels.
In the video, Daniels hosted what appeared to be a national letter of intent signing ceremony with family and close friends at a park. It was posted on his Instagram page Saturday but has since been removed.
The video was reposted by many of his teammates throughout social media, supporting this move.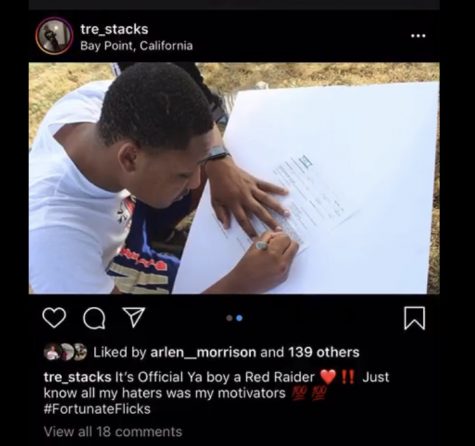 "It's official Ya boy a Red Raider. Just know all my haters was my motivators," he wrote in the Instagram caption.
Daniels said he was duped by someone who posed as a Texas Tech coach and extended the offer to him on Twitter.
However, after the Experience initially informed Daniels that Texas Tech's coaches said they never offered him a roster spot, he replied saying there was a mix up on behalf of the university's coaching staff due to the ongoing pandemic.
"They sent an offer, but there's a lot going on with Corona[virus], so it's a lot of coaches going and coming," said Daniels.
Matt Dowdy, the director of communications at Texas Tech, said there were no coaching staff changes in relation to the COVID-19 pandemic.
Kevin Hartwig, former Freedom High School football head coach who has worked with recruiters for years, said most of them talk to the coaches before offering scholarships to their players to have a better scouting report of the athlete on and off the field.
Daniels would have been the first LMC football player in 15 years to sign to a Power 5 Conference school if the offer was real.
But Texas Tech wasn't the only Power 5 school Daniels said he had an offer from. He also posted on his Instagram that he had scholarship offers from the University of Arkansas, Kansas University, Vanderbilt University and the University of Arizona. The posts have since been deleted.
Rice University was also one of the teams Daniels said he received an offer from. But Chuck Pool — who works as the assistant athletic director and in the communications department at Rice — explained the team didn't know about him.
"Our coaches said they never recruited Tre'vante Daniels or anyone else from Los Medanos College," said Pool.
When asked by the Experience if he could provide documentation of those scholarships, Daniels said all of it might have been purged.
"I have to check the house to see what I can get you, but more than likely it's in storage or my mom threw it away after we moved," said Daniels.
All of his Power 5 offers were only posted on his Instagram. However, only the offers from lower-division schools were shared on his Twitter, which has since been deleted. In those posts, Daniels tagged members of LMC's coaching staff and those of the colleges that made him offers.
Daniels said all of his Power 5 offers were pulled as soon as he committed to Texas Tech, per the NLI guidelines.
This isn't the first time a counterfeit NLI was signed. Back in 2008, Kevin Hart of Fernley High School in Nevada faked his commitment to the University of California, Berkeley. He was exposed days later by members of the Golden Bears coaching staff who said they never offered him a scholarship, according to Mercury News. Hart later admitted to fabricating the whole situation
Daniels insists he was the victim of a scam.
"Why would I put my family and myself through anything like this to lie about a piece of paper to play football?" said Daniels. "It doesn't matter to me what's real and what's fake. I know the truth and that's all that matters."
Daniels was one of LMC's best players last season. He was voted First Team All-Pacific 7 and had three interceptions with 15 pass deflections.