Softball field conditions are unplayable
Team unable to play home games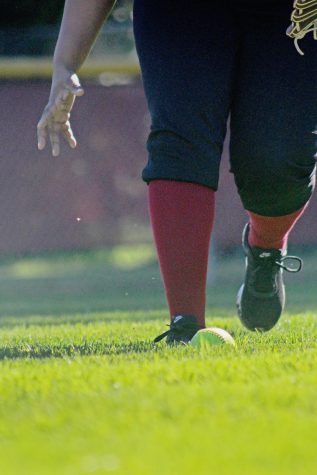 It is safe to say bad weather and softball do not mix well. Especially when you lack the proper tools and equipment to combat the weather on the field.
Los Medanos Softball has not been able to play a single Bay Valley Conference game this season nor has had a full home game.
The constant downpour from the past few months has kept the softball team out of action.
You may start to wonder how has the baseball program been able to play their conference games? The answer, the baseball program has the proper equipment to handle the rain.
"We've now rescheduled previously rescheduled games," said head coach Tim Rognlien. "It is very frustrating for the coaches because ours kids want to play bad. They are hungry." The softball field struggles with drying off after the rain has passed.
The outfield, specifically right field, is the biggest issue since due to the gigantic trees next to the field. Since the trees tower so high, the sun light doesn't drain right field as much as compared to left and center field. Mud accumulates and if not dried properly, the coaches are faced with a safety hazard for all players playing on the field.
In addition to the outfield, the infield -which was recently renovated according to coach Rognlien- is not properly covered compared to the baseball team. The baseball team has a start of the art tarp that covers the entirety of their infield.
While for softball, they have to resort to sandbags and cheap, blue colored tarp that is extremely flimsy."I feel like we are the only sport that gets our games canceled," said Hailey-Ann Vollbrecht.
Alongside to the constant cancellations, players personal lives are also affected. Luckily Most of the players,said their teachers and places of employment are understanding of the rescheduling but most of the players feel troubled having inconvenienced them.
"I feel like I just keep changing everyone's plans according to mine," said Vollbrecht
Simple tools are all the team needs in order to help combat the weather and help maintain the field. Tools such as rakes and wheelbarrows for the field can lend a big help. The use of sand to can help the team absorb the water in the outfield and not have any issues.
A new tarp is also needed for the softball team. According to coach Rognlien, he has asked the athletic department for these items before but has of yet has to receive a reply for his request.
"I really hope that the athletic department really takes us serious on getting equipment so we can be able to manage our field," said co-captain Priscilla Tatmon.
All the softball players are anxious to start their season. However, with the weather and without the proper equipment to combat the weather, they must continue to be on the sidelines and wait for their opportunity.