Stangs continue winning streak
The tough non-conference schedule the Los Medanos College women's soccer team battled through seems to have paid off well in the early stages of their conference play.
Even with four of their starters missing, the Mustangs were able to pick up the 2-0 victory over Marin College Friday afternoon.
The Mustangs have showcased pure dominance against the Bay Valley Conference, remaining undefeated and even more impressively, have outscored opponents 20-0 in four games.
"We've been focusing on depth and training all our players on a next woman up mentality," LMC head coach Zach Sullivan said. "During the preseason we went up against a lot of playoff level teams and it helps us when we play teams that are smaller and more of our level."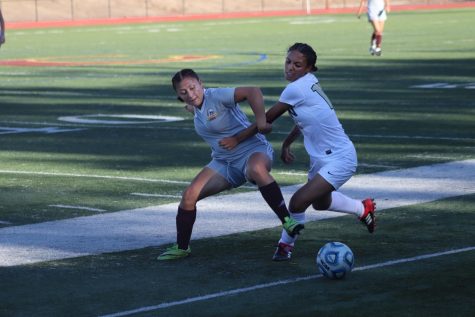 LMC was dominant with the the ball through most of the game. Its control showed early in the first half when the Mustangs had three shots on goal, but weren't able to capitalize.
The Mustangs' leading goal scorer, Carissa Day, displayed her offensive production, but most notably had a one-on-one encounter with the Marin goalkeeper that got blocked.
Already coming into the game with three starters out, LMC had another flat tire on its road to victory.
With ten minutes left in the first half, Day went down with an injury and did not make a return to the pitch.
With 32 minutes left in the game, LMC finally found the back of the net, as Brianna Olmedo capitalized on a misplayed ball by the Marin goalkeeper.
"I was really scared because the defender came back really quick and I expected them to stop the ball, but it went in so it was really nice," Olmedo said.
Holly Gallagher is the go to player for LMC's free kicks, and her specialty showed when she nearly put LMC up by another goal but her shot bounced off the crossbar.
Gallagher is also one of the most versatile players on the roster, having to step in at forward when Day went down and transitioning to defense in the second half for LMC.
Sydney Vueve later took care of adding the insurance goal to give LMC a comfortable 2-0 lead, which ended up being the final score.
Rylie Pearson has recorded clean sheets throughout the conference play.
"I've been training a lot at practice focusing on the little things," said Pearson.
She also credits her team's offensive production to give her more confidence between the pipe.
Emma Spears had a big day defensively as during the minimal offensive plays Marin got in, she was there to clear them out of danger.
LMC's next game will be against the reigning BVC champion, Solano College.