Stang is Arizona bound
Junior college athletics provides a second chance for those who want to play at the NCAA level, and Los Medanos College offensive lineman Keenan Norris was able to make his dream become reality.
The left tackle committed to Northern Arizona University, where the team is coming off a 7-5 record and placed third in the Big Sky Conference, the same league that California schools like California State University, Sacramento and California Polytechnic State University compete in.
After speaking to NAU offensive line coach Tim Davis, he took an official visit to the school located in Flagstaff, 145 miles north of Phoenix.
He said he wasn't planning on committing to become a Lumberjack during the visit, but over the progression of the trip he knew that it is where he wanted to continue his athletic and educational career.
"I got a great feel from the school, a good group of the players and the coaching staff," Norris said "I had a little hesitancy due to the distance from home, but I talked it over with my parents and the fit felt better and better, so I committed."
Most players who reach the collegiate level begin their football journey by starting their freshman year of high school, or even earlier as Pee-Wee.
But for Norris, it was his junior year of high school when suited up in pads and helmet for the first time and donned the red and yellow colors of Liberty High School in Brentwood.
Instead of starting him off at the junior varsity level, the Lions coaching staff had enough trust in his ability to place on him the gridiron at the varsity level, despite Liberty playing in the Bay Valley Athletic League, one of the toughest leagues in Northern California high school football.
Like any rookie, he struggled at adapting to a new sport. In addition, he had to compete against other lineman who were much bigger and more experienced.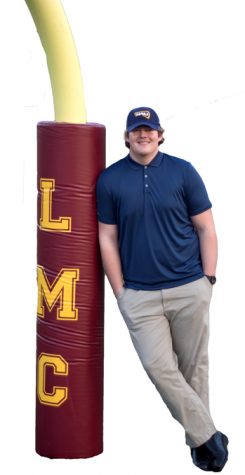 "It took some time but eventually the nerves were replaced with a love for the game and a desire to better myself at the craft," Norris said. "You're never as good as you want to be but that's part of working hard. By my senior year I was confident enough in myself to play closer to how I wanted to."
Some of the coaches he attributes his growth to was then Liberty he said formed head coach at the time, Jeff Walters and offensive line coach Rod Beaver, were key to his growth as a player.
"The opportunity that Keenan has is a testament to the hard work that he has put in these past few years honing his craft," Beaver said. "He is truly harvesting the fruits of his labor. His story embodies the idea of being accomplished by applying himself." Beaver said.
When he started his football career, Norris weighed 220 pounds. Not only has his size increased, but so has his talent Beaver said.
He now stands at a towering 6 feet 6 inches tall and has bulked up to 300 pounds. His large frame is one of the reasons why Mustang head coach Chris Shipe and his staff heavily recruited to play for LMC.
"Keenan stood out because of the type of personality he demonstrated," Shipe said "We knew he was a solid student academically in high school plus his ability on the field, and with his size, it was a no brainer."
Norris said that strength and conditioning coach Saleem Muhammad lit a fire, motivating him to get stronger to improve results on the field. Additionally, he said that LMC offensive line coach David Reinders helped improved his game by helping him learn how to correct and analyze mistakes.
Shipe said Norris was an influential part of LMC's historic 2018 season with its 5-0 start and victory in the Living Breath Foundation Bowl.
Norris, said he is planning to transfer at the end of the spring semester. While he is excited to play football at the next level, he also looks to focus on his education. While he isn't sure about what he wants to do after completing college education, he will major in biology at NAU.