Jenna Leavitt
During springtime at Los Medanos, baseball and softball take over as the sports that finish off the year. During the softball season, Jenna Leavitt took over the pitching mound. She dominated.
These little words on a page don't give her pitching near enough credit. However, if you were at the LMC diamond on game day, her pitching performances left you baffled and speechless.
She finished games and she was difficult to hit off of all season long. Six shutouts, two one-hitters and two no-hitters are some of the achievements to put on her resumé. One of the no-hitters was a perfect game. In total, she pitched 103 innings this season in conference.
"This girl I think was the most dominant pitcher in the Bay Valley Conference. Without a doubt," said Head Coach Tim Rognlien. "Her totals were outstanding, she averaged two strikeouts per inning."
With accomplishments like that, it's no wonder she was unanimously voted in first team all-conference in the Bay Valley and nominated for the all-state team, but ultimately came up short. She was also runner-up for Bay Valley Pitcher of the Year.
But prior to striking out batters as a Mustang, she was doing it at Concord High School.
Her junior and senior year she received pitcher of the year back-to-back in 2011 and 2012.
As a senior at Concord High, the softball team made it to North Coast Section championship. She pitched the entire game that clinched the championship.
In her first year at LMC Leavitt also made first team all-conference. However, the following season she was unable to play because she was two units short and had family concerns. But fast pitch softball was yet to be over for her.
This season the Stangs saw the return of Leavitt with a new coaching staff ready to bring change to the program.
"The coaching staff is wonderful and have made countless improvements to the program," said Leavitt. "I can't explain how grateful I am to the entire coaching staff for all they've done for us girls."
This year, LMC softball ended taking third place in the Bay Valley Conference, with eight of the softball members achieved awards and recognition in the league.
At this semester's end, Leavitt will have an AA in Liberal Arts for Health and Sciences. Next fall she will attend Cal State East Bay to receive her four-year degree, but is grateful for her experience in the softball program.
"My favorite part about LMC softball is I love competing. I love playing the game and I've met some really cool friends here," she said.
For the 2015 season at LMC, she averaged 6.17 strikeouts per game and totaled 57 strikeouts in conference. Her fielding percentage was far above average at .961 and only had two errors on the season.
Softball will always be a part of her life, and she will continue to play in a recreational league in Concord. She does not want to play fast pitch anymore and instead will focus on school.
After school she hopes to become a radiology technician because "they make good money and the field has opportunities for advancements."
Her goals of a radiology technician are backed by her academics and family support. She currently holds a 3.5 GPA and attributed to the success of the academic prowess among the softball team.
When not out on the softball field, she loves spending time with family and friends. She has a passion for water and loves being out on the boat, sometimes being towed riding a wakeboard or sitting in an inner tube.
The Leavitt family has always been supportive of their star pitcher.
"My mom and dad have come to all my games since I was 7. My brother comes whenever he has the day off work. My grandparents, aunts, and uncles keep all the newspaper clippings they can," Leavitt said.
In fact she first saw her brother play baseball and liked the idea of sharing a common sport with her sibling. Softball and baseball are definitely Leavitt sports for the entire family.
No. 10 for LMC softball had a remarkable year, and her pitching domination won't be forgotten.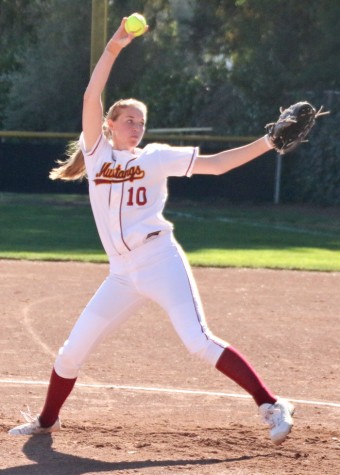 Cathie Lawrence
Leave a Comment
About the Contributor
Logan Jones, Co-Sports Editor
What's up y'all, my name is Logan Jones and I am Co-Sports Editor for the Experience. I haven't the slightest clue of what my major will be. Right now...