Openly gay male athletes nonexistent
A hot topic roaming around the nation lately has been the fact that there are no openly gay male athletes in the Big Four professional sports organizations (MLB, NBA, NFL, and NHL), and the question is, "What will it take for one finally to come out?"
It is certain that a closeted gay athlete is out there in the Big Four. There have been many male athletes to come out after they hang up the cleats, sneakers, and skates. A highly respected and openly gay sports journalist, LZ Granderson, says he knows a few gay athletes that are currently playing and that some of them are open to their teammates, but not to the public.
For instance, former Villanova basketball player Will Sheridan came out in his freshman year to his teammates before telling his parents about his sexuality.
The team created a "wall of silence" and kept Sheridan's secret from being out in the open. Sheridan finally revealed that he was gay to the media four years after graduating.
Two-time NFL All-Pro and Super Bowl-champion linebacker Brendon Ayanbadejo has been a strong gay rights advocate since 2009. Many have questioned why would a heterosexual stand up and support homosexuals. Ayanbadejo simply says he is doing what he think is right.
Maryland delegate, Emmett C. Burns Jr., disagrees with the linebacker.
Last September Burns wrote a letter to the owner of the Ravens that stated, "I find it inconceivable that one of your players, Mr. Brendon Ayanbadejo would publicly endorse Same-Sex marriage, specifically as a Raven Football player. Many of my constituents and your football supporters are appalled and aghast that a member of the Ravens Football Team would step into this controversial divide and try to sway public opinion one way or the other…"
"I am requesting that you take the necessary action, as a National Football League Owner, to inhibit such expressions from your employees and that he be ordered to cease and desist such injurious actions. I know of no other NFL player who has done what Mr. Ayanbadejo is doing."
It was very surprising that a politician would try to silence an individual and take away his rights to the First Amendment.
Minnesota Viking's punter Chris Kluwe came to Ayanbadejo defense and wrote a letter to Burns containing an abundance of colorful language. Kluwe stated to Burns that making gay marriage legal "won't magically turn you into a lustful cockmonster" and that he himself has been immensely vocal in supporting marriage equality, despite Burns' claim to the contrary.
Along with Ayanbadejo and Kluwe, multiple Los Medanos College football players have told me that they would accept a gay teammate with open arms.
So right now it seems that male athletes are on board with supporting a gay teammate to come out, but wait! In April of 2011 Kobe Bryant shouted at a referee a gay slur in efforts to diminish him. The NBA super-star was then fined for a pricey $100,000. This showed me that the association has a zero-tolerance policy for offending the gay community. But I'm not sure if the NFL has the same policy.
Nearly two months ago San Francisco 49er cornerback Chris Culliver said some derogatory remarks toward the gay community on the week of the Super Bowl.
"We don't have any gay guys on the team," he said. "They gotta get up outta here if they do. Can't be with that sweet stuff."
And if a player were to be gay, Culliver suggested that the player should keep that fact to himself.
"Yeah, come out 10 years later after that [retirement]," he said.
I was in so much utter shock when I heard these comments that I was in disbelief. I could not fathom that an athlete who plays in the gay capitol of the world would make such statements. I was also astonished that the League did not set any repercussions. This whole issue took all the gay advocating that has back to almost the dark ages.
The only positive thing that came out of this was the media and fan reaction. I did not hear anyone, including players, side with Culliver, and that many people were in dismay from his comments as was I.
There have always been openly gay women leading the way in sports. Top-notch athletes, such as former number one tennis player Amélie Mauresmo and three-time WNBA MVP guard Sheryl Swoops, have played while being open about their sexualities. But more recently, UFC title contender Liz Carmouche has been competing while being openly lesbian.
But Carmouche is not the only significant fighter that is apart of the gay community. Last October Orlando Cruz became the first boxer to come out as gay while still active professionally stating, "I have and will always be a proud Puerto Rican. I have always been and always will be a proud gay man."
So what has to happen for this activity to happen in the Big Four? Quite frankly, one of the biggest reasons prohibiting this is the media. It seems like some reporters are on a gay-witch hunt. Gay players do not want to be identified by their sexualities, but for their talent and contributions to their organizations.
I think a good suggestion is to have a month in gay support. Just like October has the NFL wearing pink gear honoring breast cancer awareness, maybe some leagues can have its teams wear rainbow wristbands for a month.
But for now there is too much pressure for a gay male athlete to come out, and the only way I see it happening is for one to publicly announce his sexual orientation while in college and be so talented that a professional team has to draft him.
Leave a Comment
About the Contributor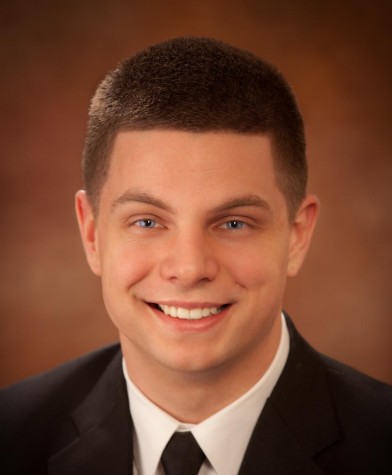 Luke Johnson, Special Projects
Luke "The Scoop" Johnson began writing for The Experience in the fall of 2012. He acquired a passion for sports journalism in high school where he was...