LMC bids fond farewell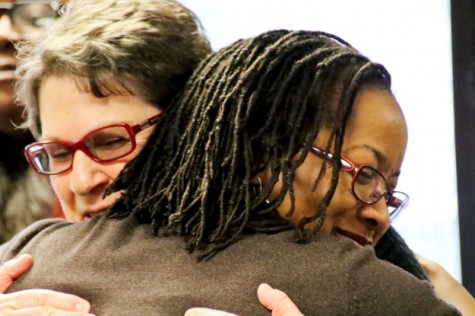 Demetria Lawrence, who served Los Medanos College since 2007 as a member of the Student Life staff, has transferred to Diablo Valley College to work in its Student Life Office as interim student life manager, effective Dec. 1.
Her nearly decade-long time at LMC proved fruitful, as she was a driving force behind numerous programs that originated from the Student Life Office, according to Dave Belman, dean of Student Success in an email sent Nov. 23 announcing her departure.
Programs that grew to maturity under her watch include: Student Ambassadors, Athletic Spirit Events, Bay Adventures and various health and wellness programs. Her transition to another college in the district follows a recent transition from her tenure as adviser to the Los Medanos College Associated Students to other projects in the Office of Student Life.
A reception Nov. 30 held in the Office of Student Life was held to honor her time at LMC and to encourage her in future endeavors. Members of the campus community showed support for her transition at the reception.
"I am very excited for Demetria for these new opportunities," said Ruth Goodin, director of College Advancement at LMC. "We are going to miss her so much here at LMC."
She also added that Lawrence has been a beneficial member for the college in may areas.
Belman echoed Goodin's sentiments.
"I'm incredibly thrilled for Demetria. She is so deserving of this opportunity," he said.
"I'll truly miss her," said LMCAS President Darren Meeks. Meeks served on the student senate as both a senator and now president under Lawrence's advisership.
Lawrence is not the only staffing change being made in Student Life.
The other student life coordinator, Jamila Stewart, has voluntarily accepted a full-time permanent position as LMC Umoja Scholars Program coordinator.
"[Stewart's] efforts have led to great success for both programs that will have lasting impacts in the future," said Belman. "We are excited for her opportunity to have deeper impact with Umoja in the future through this dedicated role."
The transition of both Lawrence and Stewart away from the office leaves two coordinator positions unfilled.
Belman will be in charge of hiring new staffers.
LMC President Bob Kratochvil is confident in Belman's abilities, saying that he is "very capable" of filling the open positions before the start of the spring semester.
He noted that he thinks the transition will be "interesting" in regards to bringing new workers into the fold on campus.
One of the new members of the Student Life Office will assume the role of adviser to the student senate, as both Stewart and Lawrence have done in the past.
While Lawrence is no longer on campus, Stewart will continue to provide limited support to the office of student life pending the hiring of new staff.
Leave a Comment
About the Contributors
Joseph Delano, Contributor
Hi! My name is Joseph Delano. I am 27-years-old, hailing all the way from Bethel Island. I have been at Los Medanos College for 8 years… for you math...