Life-long learning is not a priotiry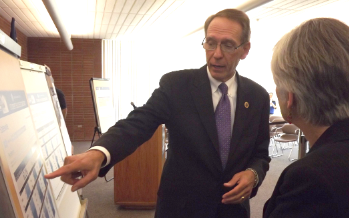 Changes to the structure of priority registration will be implemented at all of 112 California Community Colleges by the fall 2014 semester. Some students will get higher priority and others will lose theirs.
The California Community Colleges Chancellor's office held a phone press conference on March 27 to explain these new changes and what the new criteria will be.
A press release sent the same day by Paige Marlatt Dorr, director of communications at the State Chancellor's office read:
"Under the statewide priority enrollment regulation, new students who have completed college orientation, assessment and developed education plans as well as continuing students in good academic standing will now have priority over students who do not meet these criteria."
Students who are on academic or progress probation for two consecutive semesters, and students who have earned 100-plus units will the lowest registration priority.
"We are not counting most basic skills and ESL, but if you have done 100 units, then we're saying it's time to move to the end of the line," said Linda Michalowski, California Community Colleges Vice Chancellor for Student Services and Special Programs. Remaining at the top of priority registration are students who are served by EOPS and DSPS, then active-duty military and veterans who meet certain requirements, Foster youth and some former foster youth students will follow in a second tier or can be combined in the first. Contra Costa Community College District has chosen to group all four categories into the Number 1 priority registration.
These changes are a result of recommendations from the Student Success Task Force, which looked at the community college system to make suggestions that help students succeed in achieving their educational goal, and to move students in and out of college more quickly.
"We, been having a situation for the last few years where the number of students who want to enroll in California Community College is far greater than the number of students for whom we had funding, and therefore haven't had seats in classrooms and services to support them," said Michalowski.
This change in registration also says something about the direction of California Community Colleges are going, — that in lean economic times, life-long learning is no longer a priority.
"In the past we have always said anyone can come to community colleges, you can stay as long as you want, you can come and go, we have not had any limits like this," said Michalowski. "But that is a by-gone era, I am afraid. The state of California is no longer willing to pay for students to do that."
The restriction on life-long learners' enrollment priority is one of the aspects in the new shift that has already been established districtwide.
According to LMC Marketing Director Barbara Celle, LMC and the district as a whole already implemented many of the new statewide requirements about year and a half ago.
The old model ranked EOPS and DSPS in the first tier and then students who had the accumulated the most units would fall into the second tier of registration priority. This is no longer the case.
"We want to give higher priority to those students who have accumulated between 45 and 71 units, who probably are in the group that are most likely to be finishing up their requirements so they can move on," said Cella. "What we have done districtwide is separated out unit ranges and we agreed on which ranges should get priority over the others."
LMC still has a few more regulations to put in place. For example, each district needs to develop an appeal process for students who feel they have lost their priority enrollment unfairly.
Students who find themselves close to 100 units and have only one semester left may apply for early graduation and can get specialized enrollment times. According to Cella, this is another way to help students achieve their academic goals.
Each district is responsible for notifying students who are in danger of losing their enrollment priority, starting at the end of the spring semester. Notification will be sent to those who have 75 applicable units and students who are on academic and progress probation. Each district also has to adopt the responsibility to provide services that support the new standard.