Combatting the high gas prices in the Bay Area
With the ban on Russian oil, the U.S. and other parts of the world are starting to see rising prices for gas.
With the war in Ukraine, many countries around the world are putting harsh sanctions on Russia as a way to pressure them off their invasion plan. President Joe Biden announced on Tuesday, March 8 that the U.S. is banning the import of Russian oil to strike a blow on the Russian economy. This move has led to a hike in gas prices and the U.S. is starting to notice these effects.
The national average as of March 15 is $4.31 a gallon, setting the record for the highest recorded gas price since 2008. Californians, however, have seen the average cost of a gallon at around $5.75, more than the national average. This has led to people scrambling to find gas stations lower than the average cost so they don't have to empty their wallets.
As a result, a Costco gas station at Verne Roberts Circle in Pittsburg has started seeing more traffic than usual. These lines for gas are usually packed, but the last couple of weeks have seen the lines of cars leading up all the way down the street. The price here for regular gas is $5.35 and premium at $5.65, which is cheaper than the Shell gas station located around Los Medanos College.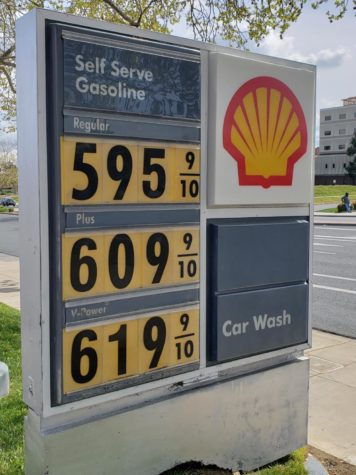 For LMC student David Martija, who gets his gas at Costco, it's made it more difficult for him to get a full tank.
"It's kinda tedious," said Martija. "The past few times I went, there were just big lines into the gas station and it takes forever, and also it's just getting expensive."
Travel for Martija is not really an issue because he only lives a couple minutes away from campus. However, students who live further away might want to consider other ways to get to their destination if they find the price hike to be too much to handle financially.
One thing to consider is carpooling with some friends. Not only does it help the environment and in some ways alleviate traffic, but people can split the cost of a full tank to help save money on gas for each passenger. Another option is rideshare apps.
LMC student John Gutierezz doesn't drive to campus, but utilizes ride share apps like Uber and Lyft to travel. While this is an option to travel, keep in mind that gas prices rising also means that rideshare apps are doing the same with their cost. There is always public transportation like BART and Tri Delta available to consider also.
Alumni might remember when there was a bus pass program which offered bus passes at a discount to students, but there are no plans to implement it any time soon.
"The Bus Pass Program was funded by LMCAS many moons ago," said Teresea Archaga, the director of Student Life. "It was a very expensive program from what I recall…maybe more so now."
If students plan on continuing to travel with their own vehicles, an app they might want to check out to help with their travel cost is GasBuddy. This app lists the real time prices of gas stations local to you with cheap prices and also can save you 25 cents per gallon.
Recently, the U.S has started to see the price of oil drop and that could mean gas prices might follow too. Experts say to not expect it soon however, it could be months or a year before the price of gas settles down.