Art show is abstractly interesting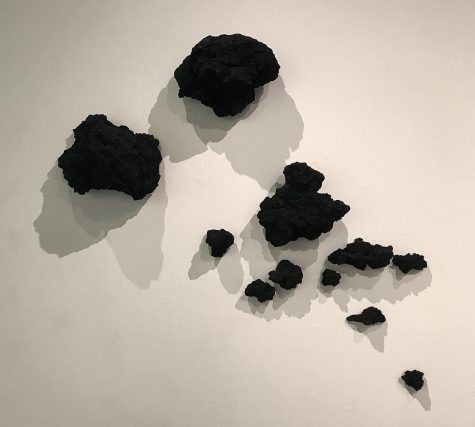 Los Medanos College unveiled its newest art exhibit Tuesday Oct. 17. The show featured an assortment of captivating pieces centered around abstract art.
The purpose of abstract art is to completely disregard any notion of authorial intent that's relevant to analyzing a piece of art. Instead, it requires the viewer to decide what message the work of art is conveying themselves.
There is much interpretation to be had for the works featured. One of the featured sculptures, titled "Gathering (road to sky)" by Kim Turos, is particularly interesting. The sculpture consists of black rocks going in an upward and scattered pattern. This work of art is visually eye-catching and open to a multitude of various interpretations.
Some of the art pieces come from artists with decades of experience, and accolades for their work.
For instance, one of the artists featured is Marlene Anjega, a Bay Area artist who has been exhibiting her art and teaching for more than 25 years. Painting as a process, with its inherent flaws and failures, is central to her work. Anjega completed her Master's of Fine Arts at California College of the Arts in 1990, where she received the Barclay Simpson Award for her multi-media installation, The Yellow Wallpaper.
Furthermore, Donna Brookman, a long-time resident of Berkeley, Calif., holds a bachelor's degree from UC Berkeley and an MFA from the San Francisco Art Institute. Her work has been exhibited both nationally and internationally, although her main studio is in Oakland.
Bonnie Neumann, another artist from the gallery opening, has had her work displayed both nationally and internationally in museums and galleries such as the Mills College Art Museum in Oakland, Calif., and the Western Gallery at Washington Western University.
The artists featured at the gallery expressed their love and passion towards their craft throughout the exhibition of their favorite pieces.
"I draw from ordinary objects to interpret or reinvent them," said Gale Antokal, one of the artists featured at the event.
"I'm always intrigued when something small and unexpected presents itself because in my experience, the most authentic work germinates from a simple notion or impulse, which then can transform into something more extraordinary, ineffable or abstract discover a world of complexity in one pictorial idea.
Antokal continued, "In the process of working with repetition of form and multiple variations, the meaning of the object begins to emerge. As this happens, I am engrossed in the generative relationship between the circumstances of the single image drawn on the picture plane, and the shift of meaning with the subsequent assembly of many. The essence of the form is realized in this process."
Artist Donna Brookman loves painting.
"I love the way it is so suggestive of the world and yet is something else. I love the light it can conjure, the energy and sense of touch it conveys. I love the sense of skin in an oil painting." Brookman continued, "Moving through a series, I work on more than one painting at a time. The paintings evolve slowly and intuitively. I have a starting point, perhaps a memory of a certain quality of light and then go where it leads me."
You can visit the Gallery in the campus Library Building.