Poets spit truth and rhymes
Los Medanos Colleges' Little Theater housed an all-inclusive spoken word presentation by Sister Spit, a lesbian-feminist art collective based out of San Francisco, who has intrigued the audience with vivid poetry.
Professors Liz Green and Morgan Lynn made this no cost event possible which provided free food and beverages during the reception which began at 6 p.m. Funding was provided by the Office of Equity and Inclusion here at LMC. The doors of the Little Theater opened at 7 p.m., and in only a matter of minutes, the venue was packed.
The revisited themes detailing the performers struggle with identity, homosexuality, and poverty that gives members of the LGBTQ community a sense of unity. Even though the artists come from different cultural backgrounds each poem introduces their bout with hardships. Professor Liz Green expressed the need for these shows stating,"I think art and social change go together and when people express their own experiences it creates a bond between the performer and audience."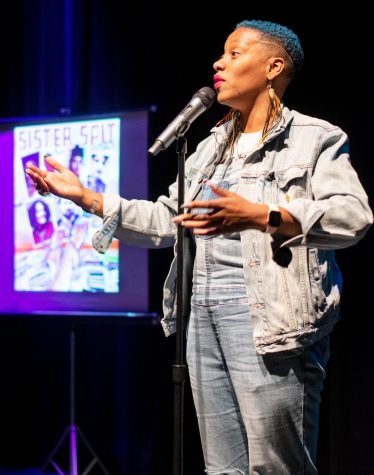 Some poems featured were unfiltered and overwhelmed some attendees with raunchy comedy. The rawness featured in poems like Austin Hernandez's "10 2 10" remix that touches on the adversity he faced growing up as a transgender Hispanic person in San Antonio, Texas. Living in a state bordering Mexico Hernandez recounts through stanza rhyming.
"So I woke up working like a Mexican, to racist stereotypes in the country that I'm in," said Hernandez, "and I'm accidentally participating again and again."
Performer Imani Sims hosted the show in between each act which provided a satirical or heartfelt narrative. Sims' involvement in the arts began when she participated in theater at the age of eight and started writing her own poems at 14 about being labeled as "whitewashed."
She frequently switches into other peoples' perspectives to tell their side of sensitive subjects.
The LGBTQ Faculty Staff Caucus holds a different event each year celebrating the community of individuals gay, lesbian, or transgender backgrounds. In the fall of 2017, there was a Queer Comedy Showcase and the following year they held a National Coming Out Day event with writer Deb Cuny as a guest speaker.
To end the evening, the artists divided time to interact with the audience while selling their published works. The items available for purchase included art and poetic novels that were not featured in the performances. When attendees were not purchasing goods they were sharing experiences with the poets.
The hour-long event appeared to be enjoyed by everyone who attended, as the theater cleared out groups of friends shared their thoughts. High school student Taylor Perez expressed her admiration.
"It was really interesting because I'm in high school and I was introduced to different people 's experiences," said Perez.