New thriller is an instant classic
We're living in a golden age of gruesome genre films with stylish art-house aesthetics.
Jeremy Saulnier's "Green Room," a Punks-versus-Nazis siege tale, is another film inspired by the early works of John Carpenter. It packs interesting questions — how important is my identity when I have a knife in my gut? — into an absolute rocket ship of a thriller.
The Ain't Rights (Anton Yelchin, Alia Shakwat, Joe Cole and Callum Turner) are a punk band perpetually on the brink of total poverty. A canceled gig puts their delicate financial status — and their ability to get home — in peril, until a friend suggests a potentially well-paying gig. The downside: The show is at a remote Nazi compound in the Oregon woods. Gas money is gas money.
The band plays a rousing cover of the Dead Kennedys' "Nazi Punks F— Off" to a less-than-receptive crowd before heading back to the titular green room, only to find a whole lot of Iron Eagle neck tatoos, knives, White Power stickers, a Confederate flag and a girl on the floor with a screwdriver in her temple. The band is invited to sit in the green room until further notice. "We're not keeping you," says one Nazi. "You're just staying."
For reasons both obvious and obscure, the owner of the club (Patrick Stewart) doesn't want the band to leave — at least not alive.
Saulnier's tidy 95-minute film doesn't waste a single scene dawdling about. Even earlier scenes of the band on tour — the usual banal scenes of long van rides, rural roads and unusual sleeping arrangements — are pieced together at a furious stitch by editor Julia Bloch. As the band enters enemy territory, Saulnier brilliantly ratchets up the tension until the first burst of brutally visceral violence.
Like his last film, "Blue Ruin," Saulnier — who wrote both films as well — creates characters who are not at all accustomed to the violence they're forced to witness and commit. Though they may be nihilistic punks, the mere idea of shooting someone is inconceivable, never mind the sight of a sloppy knife attack. There's no glorification of violence here. You get the feeling that these are the simple, deeply unpleasant facts of the matter — this is the result of combining a boxcutter and flesh.
Despite being heavily influenced by the works of Howard Hawks and Carpenter, "Green Room" repeatedly subverts expectations. Characters survive and die at moments when every instinct predicts the opposite, and it does so in a way that doesn't feel cheap like many of the so-called twists in "Game of Thrones." Even as the protagonists approach the Final Showdown, it isn't clear if they'll ride off into the sunset.
The performances in the film are all fairly stellar, from the clear-headed Cole to the warbly Yelchin to frequent Saulnier collaborator Macon Blair's second-thoughts-having Nazi janitor, but the standout performance is from Sir Patrick Stewart. The renowned Shakespearean actor brings a tremendous gravity to the part of Darcy, the compound's owner and the leader of the white supremacists. His unmistakable voice — even when speaking softly through the barricaded door — drips with menace, though credit is once again due to Saulnier for creating a wholly unique character for Stewart to inhabit.
Like "Blue Ruin," "The Guest" and "Mad Max: Fury Road" before it, "Green Room" is the newest in a line of films that take inspiration from the schlock of yore and recasts it in gold. Who doesn't like an artfully murdered Nazi?
Leave a Comment
About the Writer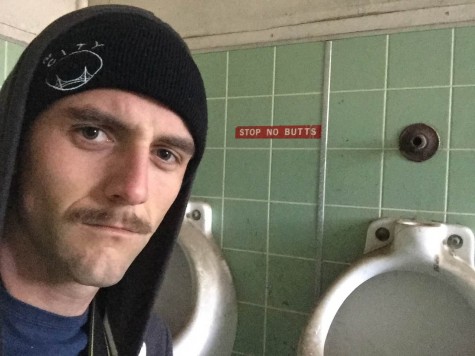 Tyler Mortimore, Staff Writer
I graduated from Rio Vista High School in 2010 and goofed around for a couple years before registering at LMC in spring of 2013. I continued goofing around...