.Paak delivers a solid album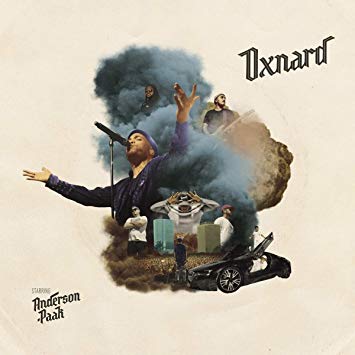 Consistency is a treasured trait among artists who know how to fill their niche sonically. Grammy nominated artist and multi-instrumentalist professionally known as Anderson .Paak has had a meteoric rise leading up his latest record "Oxnard" released Nov. 16, 2018.
Born Brandon Paak Anderson in Oxnard, CA he took to playing the drums at the age of 12 at his local church and was later featured as a drummer for American Idol contestant Haley Reinhart. After multiple creative projects including his first solo LP "O.B.E. Vol. 1" and featuring on Dr. Dre's album "Compton," .Paak has released his latest album "Oxnard."
"Oxnard" kicks off with the track "The Chase" bringing in a beautiful vocal melody, courtesy of vocalist Kadhja Bonet, before transitioning to a funky live drum performance that seems to derive inspiration from blaxploitation films in the 1970s. Dr. Dre was executive producer of this album while overseeing mixing of each individual track.
.Paak is currently signed to Aftermath Records and accompanied by his touring band, The Free Nationals, on this latest effort. The third track "Tints" features rapper Kendrick Lamar who delivers an elaborate verse on evading the public eye despite an exponential rise of status.
By the time the listener reaches the fourth track "Who R U?" two significant changes are apparent in comparison with .Paak's earlier works. His previous albums "Malibu" and "Venice" included interesting concepts but lacked structure.
On "Oxnard," he not only establishes a sense of direction throughout the album, but is also often rapping lengthy verses in his most soulful ballads as heard on the track "Saviers Road" produced by 9th Wonder. Another example of .Paak's versatility really shines on the next track "Smile / Petty".
The track "Brother's Keeper" features G.O.O.D Music rapper Pusha T and the instrumental gives each artist just the right amount of space in the mix so they each perform to their full potential. The guitar twang gives a sense of triumph as .Paak and Pusha T exchange verses before the beat switches to a soulful arrangement of horns and vocal harmonies from .Paak himself.
West Coast legend Snoop Dogg reflects on life in Long Beach, CA on the track "Anywhere." He performs a laid back verse that serves as the intro. The instrumental itself is similar to a breath of fresh air, especially when recording artist the Last Artful Dodgr is recruited for the chorus with her soothing vocals.
A huge highlight on the album features rapper Q Tip from A Tribe Called Quest who joins .Paak on the rousing and in-your-face instrumental that is "Cheers." The songwriting is solid but what is most intriguing is how the two lyricists conform to the theme while recounting their own experiences.
Toward the end of the album, the concept takes a unique approach on "Sweet Chick," featuring BJ the Chicago Kid which details the artists' past experiences with women from different cultural backgrounds.
The hilarious track then segues into "Left to Right" which introduces the lively drum performance yet again that feels like an invitation to listen to the brilliant effort all the way through once more. "Oxnard" is easily .Paak's most cohesive record to date with almost an hour of timeless material.