Rapper takes a 'Chance' on tour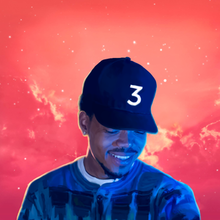 After his successful "Magnificent Color" tour and three Grammy wins last year, Chance The Rapper made a triumphant return to the Bay Area with his "Be Encouraged" tour.
With the performances Chance has done on "The Ellen DeGeneres Show," "The Tonight Show with Jimmy Fallon" and the "59th Annual Grammy Awards," when the dates for this tour were announced, I knew I had to witness him live.
Chance brought a live band with him to Oracle Arena, which included frequent collaborator and trumpet player, Nico Segal (formerly known as Donnie Trumpet). He performed four songs from his second mixtape Acid Rap, three songs by Kanye West and all his songs from his Grammy Award winning mixtape Coloring Book.
He made the whole crowd happy as they sang along to his uplifting and positive hits. The live music brought an extraordinary feeling and Chance dancing across the stage brought smiles many of the Oakland audience members.
Before this, I hadn't been at a concert where the artist has performed the same song twice. He did this not because of any mistakes he made rapping, just because he felt like it was personally his best written song. That song being "Blessings (Reprise)" in which we raps about the blessings that God has given him now and the ones in store for him in the future.
What made this concert unique was Chance doing what the name of his tour is telling all to do — be encouraged. Chance uses his music to express his love for God, in doing so after performing "Blessings (Reprise)" having the audience repeat after him "praise God," Chance spoke encouraging words that left the audience members inspired.
"Fear is unseen," said Chance. "I want everyone to know I ain't scared of s**t. Believe it or not, I've had some ups, definitely had some downs and I'm still here rocking with you. I promise you have something in store for you around the corner. Somebody told me to come and say this for you, to reassure you it's gonna be all good."
Chance The Rapper's Be Encouraged tour is scheduled to have over 40 more shows across the country until July, with three more shows in October of this year.