'Idol' pieced together great show
The Shoreline Amphitheatre was jam-packed with excited fans as Kelly Clarkson took the stage Sunday, August 23.
As a part of her "Piece by Piece" tour, Clarkson had three openers. The night began with Country-Pop artist Abi Ann performing a cover of Taylor Swift's "Better Than Revenge" and some of her own original songs such as "Cage Without a Key."
Next, Eric Hutchinson rocked the stage, even deciding to walk through the crowd during his act. His stage décor included an amusing banner that read "Eric Hutchinson is pretty good" and almost like subliminal messaging, his performance leaves you feeling like Hutchinson is pretty good.
However, it was Pentatonix a pop a capella group who won season three of "The Sing-Off," that impressed me with their stage presence and talent. Covers of songs such as "Cheerleader" by OMI and a Michael Jackson medley got the crowd up and moving. The audience also sang along to their original song "On My Way Home." They even gave the audience a sneak peek of their new song, "Can't Sleep Love."
When Clarkson finally took the stage, she did not disappoint. Best known for being the first winner of American Idol in 2002, her performance proved that despite the criticism that other artists from American Idol and similar shows have had regarding their live performance skills, she is still as talented as she was when she won. In fact, her vocals sound the same live as they do on record.
Throughout the night, Clarkson showed that she is still the down-to-Earth girl from Texas that people came to know as their "American Idol." Her witty and somewhat awkward comments made her real and relatable.
There were a few surprises for the fans throughout the show such as the "open mic night" segment, where she invites a person to sing a song on stage, "KC Classics" which refer to some of her older songs on her album that wouldn't usually make it on to the set list and "fan requests" in which fans request a cover for her to sing at each show. This time around, she covered "Sunday Morning" by Maroon 5.
One of the most touching moments of the night was during the performance of "Piece by Piece" in which Clarkson was visibly holding back her tears due to her connection with the song. She joked that her recent pregnancy, which was announced at her show in Los Angeles Staples Center, was the cause for her emotional reaction.
The show makes for the perfect mix between her new and old releases making it a memorable experience for fans of all ages.
Leave a Comment
About the Writer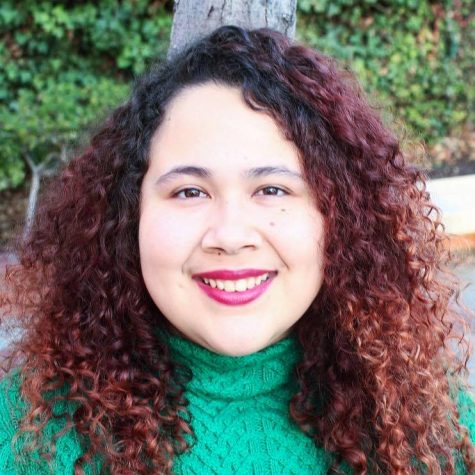 Beatriz Hernandez, Editor in Chief
My name is Beatriz and this is my last semester at LMC. I am a journalism major and I hope to transfer to UCLA.