Sketching for a dream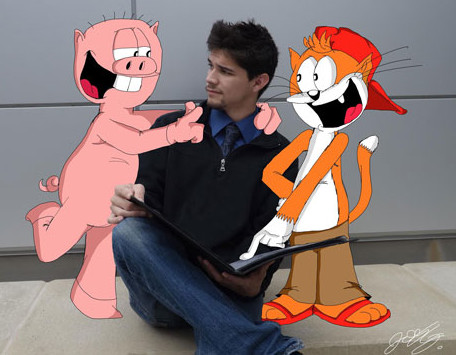 If you keep up with the Brentwood Press, then you may have come across recent issues that debut a new original comic strip titled Artist Block, created by second semester LMC student Joey Fajardo, 19, who said it's "a comic strip about everything."
His work was first featured in their issue back on Jan, 31 and is now entertaining local readers with his vibrant characters every Friday.
"I feel accomplished that my cartoons went somewhere outside of my own sketchbook and are currently being seen and read by several people," said Fajardo.
"I've been drawing forever," he continued. He has been making comics for as long as he can remember. What gave him the determination to start his own strip at age 11 were role models like Bill Watterson (Calvin and Hobbes), Matt Groening (The Simpson's) and Charles Schulz (Charlie Brown), who have all made memorable careers out of doing what he had been doing on a consistent basis.
Fajardo has taken Intermediate Drawing with Professor Judy Petite and in the past he even branched out for courses at the Museum of Cartoon Art in San Francisco where he was instructed by professors who had worked on The Simpsons and several Pixar Films.
"I grew up on all kinds of cartoons, and I've really been making comics for pretty much my whole life," he said. He added that Artist Block is a fictional version of his own life and the characters are based on his family, friends, and cartoon characters he's been cooking up for years.
Artist Block was inspired by the frustration Fajardo felt over the years while trying to come up with an original idea for a comic strip. He was creating characters without a purpose and settings without a back story and out of his fiery he came up with the concept for a cartoon about a cartoonist that couldn't think of any good ideas, then Artist Block was born.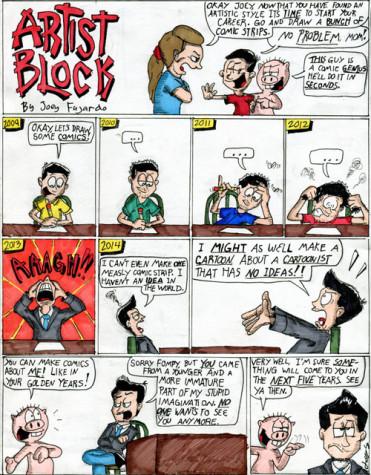 "I would say his artistic style has a kind of a 'retro' feel to it. It sort of brings me back to my youth, growing up with 'Calvin and Hobbes'," said Ruth Roberts, managing editor of the Brentwood Press. "Local talent like his doesn't come around everyday, and it's been great that we can showcase Joey's skills to the community." The strip is a semi-autobiography that delves into the mindset of being a cartoonist. Fajardo appreciates the opportunity to reach readers "I see myself continuing this strip for as long as possible," he said.
But Fajardo doesn't just focus on cartooning; He also has a huge interest in film, animation and television. He is Majoring in Broadcast Communications and he sees himself working for a news station and then later on possibly branching out into a field where his creativity can bloom.
"I would love to one day take my cartoons and adapt them into film and TV" he said. "I see myself writing, producing and directing animated shorts and even live action films."
When deep in the creative process, one might be filled with all sorts of emotions. Fajardo describes these feelings as relieving. "Whether I'm drawing a character or a comic, it's kind of my chance to be as silly, bizarre, weird, funny, and as unapologetic as I want to be" he added "Normally I'm pretty laid back and to myself, but on paper, I'm loud and completely in your face."
Give Artist Block a look on Fajardo's website dedicated to the comic strip http://artistblockcomics.weebly.com/ Or you could check it out in the next Brentwood Press paper and online version of the press http://www.thepress.net/features/article_788395de-8d27-11e3-8a4b-0017a43b2370.html#user-comment-area.
View Comments (2)