LMC hosts a game of cat and mouse: Drama Department attempts long con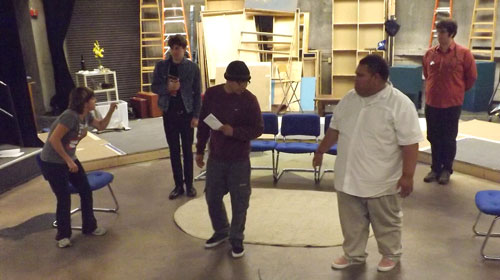 LMC's Drama Department is back again with another play in Little Theater that's going take their audience from their world into another.
This month, they are introducing us to "The Government Inspector." The play is a timeless comedy about the corruption of a small town in Russia who is visited by a man who they believe to be an inspector with the power to either make or break this town and take its power away from its people.
Fearful that the investigation will unmask the town's true colors, the Mayor enlists the help of his fellow government officials to cover up their misdeeds by any means necessary.
"The Government Inspector" was originally written by Russian novelist Nikalai Gogol, and was later adapted by Oded Gross. Gross' adaptation was performed at the Oregon Shakespeare Festival. Which is the version that we're going to be viewing shortly.
"The play is the greatest Russian comedy, written in 1834 by Nikolai Gogol, and it's a classic mistaken identity comedy", words from the man that made this all possible, play Director Reid Davis, "Well all just want to be that guy that just gets whatever he wants, but without the effort."
Actor Sufian Alani gets to play Con Man, Khlestakov.
Federico Bartolo plays as The Mayor, a man who is going to do everything in his power to keep Khlestakov happy.
How long things can hold for this top dog without being discovered by those Russians? Things should play out for Khlestakov as long as he sticks to the plan. Somewhere deep down, he's terrified of the fact of being discovered.
Actor T.J. Spadini, who plays The Doctor, describes the play as, "a non-stop roller coaster of comedy genius that won't let you off"
Speaking of the cast, the total amount of stars is 14. There are a lot of veterans of the theater that are going to make an appearance who we all know are more than capable of bringing down the house.
The play opens November 14, tickets priced at $7 for LMC students with their I.D. and Military, $10 for those off campus bunch that just can't keep away and $5 for children. For more info on all that's going on contact the box office at 439-2181 ext. 805.
"So far, I'm astounded by the commitment and talent of the actors," said Director Davis adding, "Sometimes I feel like I'm watching a Tim Burton movie in rehearsals. They are funny, but there's a dangerous thread of anarchy that makes everything seem like it's about to explode.  I love the creativity, generosity and comic skill of this ensemble."
Leave a Comment