Flight Movie Review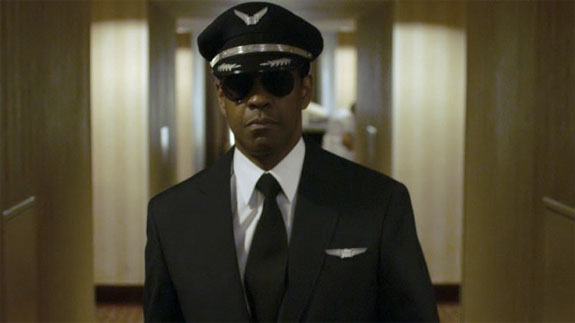 Movie summary:
Denzel Washingtin stars as Whip Whitaker, a pilot who lands a crashing plane. Despite saving many passangers, he faces the possibility of life in prison for having alcohol in his system.
Jared says: Washington gets it
****
Since Sept. 11, 2001, films about airplane accidents have been far and few between. Eleven years later and I think it's probably okay to touch that subject now.
Robert Zemeckis, director of "Forrest Gump" and the "Back to the Future" trilogy, felt it was necessary to make an inspirational and controversial film about a heroic pilot who comes under fire after a horrible plane accident occurs.
Denzel Washington plays Captain Whip Whitaker, a pilot who manages to save most of his passengers in a plane crash that no other pilot would have been able to survive from.
The movie seems to be an allusion to the pilot that safely landed a plane in New York's Hudson River in 2009, and successfully pulls in the audience to the intensity of what a plane crash would really be like.
With a hit cast alongside Denzel, featuring Don Cheadle, Bruce Greenwood and John Goodman, the film runs two-hour runtime maintains a steady pace leading through the aftermath of the crash and a criminal investigation that ensues as a result.
I think people tend to forget sometimes that the pilots or stewardesses on staff in airplanes are regular people too and it's very refreshing to see things from the other end of the spectrum.
Zemeckis once again proves that he is a noteworthy director and offers a film that will make you laugh, pull you to the edge of your seat, and most definitely bring tears to your eyes.
Just don't let it convince you that flying is unsafe. It's highly recommended. 4 out of 5 stars.
Vanessa says: Denzel soars high
****
"Flight" rises high and has everyone on the edge of their seats from the beginning. Denzel Washington's character Whip Whitaker, a pilot who struggles with alcohol addiction, decides to fly a plane with 102 passengers on board while intoxicated, hung over and just after snorting cocaine.
From the moment Whip takes off, he starts to have trouble as he tries to get through a bad storm, and right after that things start to go down, literally.
Although Whip was drunk while flying, he stayed calm and was able to pull off a of the connections I've made here."
miraculous crash landing, with only six people dead as a result. Whip then was a hero to most, until an investigation on the crash exposed his addiction. His lawyers are determined to keep him out of jail, but his addiction is too much to handle.
The suspense and drama starts from the beginning to the end, which makes you want to stay glued to your seat. Director Robert Zemeckis provided a great supporting cast with Kelly Reilly, Bruce Greenwood and Don Cheadle.
The scenes leading up to the plane crash were so good, that it made the audience feel as if they were in it. Denzel Washington was phenomenal with his role and so were the rest of the actors. I definitely recommend this movie. With a meaningful ending, the audience rose from their seats at the end to give this terrific film a round of applause.