The new normal – Day 61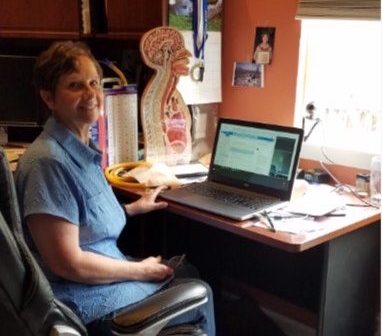 With in-person classes suspended and most clinical nursing sites closed for much of the semester, Los Medanos College nursing students have been unsure until recently if they'll be able to get the clinical hours they need to graduate. For Debra Hawkes, Director of the Licensed Vocational Nurse Program, the dilemma currently faced by her students has been one of her main concerns in recent weeks.
"The Nursing Program has been thrown into quite a bit of disarray," Hawkes said.
Weeks before the college closed, the clinical sites where students log the hours they need to graduate shut their doors to students as concerns over COVID-19 rose.
Since then, Hawkes' students have been largely unsure if they'll be able to get the hours they need to graduate or move on to the next semester. This reality would pose a problem not only for her students but for the entire California health system.
"There's a nursing shortage in California," Hawkes said. Around 10,000 California nursing students graduate each year, and if those students are trapped at school, they won't be able to join the struggling health care system. "It's gonna create a long term problem if we can't graduate students," Hawkes said.
Fortunately for her students, according to Hawkes, a couple of hospitals are opening up to the students so they can complete the few hours of make-up clinical time they need in order to graduate or move on to the next semester.
After the clinical sites closed their doors and LMC suspended in-person classes, Hawkes' students shifted to online learning, where they've been able to accomplish half of their clinical hours using virtual simulation and documentation programs that were purchased with emergency money from the Perkins Grant Fund.
Still, online learning has posed challenges. For many students, some of whom work in health care and have children, learning the simulation systems has been time-consuming and stressful. "It's a huge amount of work for the students to do everything online," Hawkes said.
No less, that training might not replicate the quality of in-person learning. "It's pretty hard to teach how to give an injection online," Hawkes said.
Nonetheless, Hawkes says her students are "extremely, extremely motivated." Hawkes often tells her nursing students, "You have to learn the F word — Flexibility." because, pandemic or not, clinical sites often might cancel on students.
Hawkes' new routine sees her on the computer by 8 or 9 a.m. During her workdays, she meets with students on Zoom or in open office hours, sits in faculty meetings, or takes care of administrative work.
"I really miss meeting with the class," she said.
To stay healthy, Hawkes makes sure she walks every day. She misses driving through the hills of Contra Costa County, but instead, she tries to take care of the stress in other ways. She also tries to encourage healthy habits in her students by telling them to do something that's not related to school.
"The students that I have worked with are very appreciative of the efforts on their behalf to get them through this semester," Hawkes said. "Nursing school is difficult and with the addition of online courses, learning new simulation software and lack of quiet study time it has been rough. They will all cheer once the semester is over!"