The new normal – Day 49
Editor's note: "The new normal" is a continuing series that looks into how members of the Los Medanos College community are coping with a shelter-in-place order amid the COVID-19 pandemic.
Adjusting to a new normal has been stressful for Los Medanos College students and staff alike and professor Silvester Henderson is no different to this.
Henderson currently spends his days at a computer teaching classes and attending board meetings. He said that in addition to his Academic Senate duties, "these times have been overwhelmingly stressful."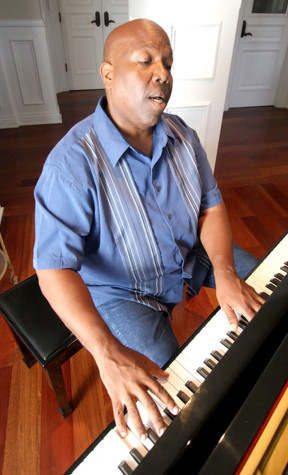 The Music Department has been productive despite the county's shelter-in-place order. Henderson said that the entire music faculty has been amazing and that orchestra and band director Dr. Luis Zuniga "has taken a great leadership role in assisting the college and faculty in becoming more distance education competent."
Going forward, the Music Department hopes that concerts can return to their normal schedule next semester.
"The Vocal Department was in the middle of hosting a vocal competition before the pandemic," said Henderson. He hopes to resume the event and "present the semi-finalist to the campus community soon."
Not only has Hendersons teaching duties changed, his "outside performing and creative work have totally been affected" as well. He does admit that "as a Performing Arts professor, it is very difficult to not have a face-to-face involvement with your students."
Henderson feels that he has grown professionally amid this pandemic and that it isn't all bad.
"I have learned how to teach online, use academic software, post videos, create web pages, interface music software, give exams on Canvas [and] post materials on Canvas," said Henderson. He continues to learn more remote teaching instructional skills and "use this time to heighten [his] creative work."
Professor Henderson will be teaching Music 030, a basic keyboard skills class that is completely online for the summer 2020 semester. Although the class does not fulfill piano requirements for a music major, it's a starting place for students beginning their music study.
Basic skills such as reading music notes, ensemble and interpretation will be addressed. Watch some of Henderson's videos on his YouTube page to learn more.