'Dirty Computer' mirrors real life
The album "Dirty Computer," a political, afrofuturist epic from the mind of triple-threat Janelle Monáe, aims to deconstruct your typical idea of science fiction and rebuild it to be an intersectional blending of mediums.
Just like her previous albums, Monáe takes real life social issues, and turns them on their head by adding a technological spin. Though the emphasis with her previous two album
s seems to mirror race relations in the United States, "Dirty Computer" aims for a more intersectional approach, not only discussing race, but gender and sexual orientation as well.
This change is marked by Monae's own stance on politics and social discussion. For years she's been vocal about her support of social movements and events including the Women's March and Black Lives Matter as well as advocating for other marginalized groups outside of her own.
The entire album is an ode to people of color and LGBTQ folks, as well as anyone falling anywhere on the gender spectrum.
This album couldn't have come at a better time as 2018 has so far been an integral year in black artists exploring futuristic themes. Marvel's "Black Panther" got audiences excited not just because it's another superhero movie, but because comic book fans of color have been looking for representation in the world of science fiction. "Dirty Computer" is a part of a narrative that aims to include the historically unincluded. There's even a tie between the two works as the song "Django Jane" — a track in which Monáe reminds her audience just how skilled a lyricist she is — is dedicated and inspired by the "Black Panther's" female warriors, the Dora Milaje.
Like her previous albums, there is a cohesive storyline which becomes apparent in the accompanying visual "Dirty Computer: An Emotion Picture." The story follows android Jane 57821, her lover Zen played by "Thor: Ragnarok" star,Tessa Thompson and a group of their "dirty computer" friends — "dirty" meaning anyone who stands out in society or questions the way the world around them works.
The visual component, directed by music video giant Alan Ferguson, cuts back and forth between scenes where the protagonists are enjoying each other's company and scenes in a facility where there is an attempt to cleanse the people society has deemed "dirty."
Though the visual is backed with sleek, vivid futuristic imagery, there is a vintage cyberpunk feel which also shows up in songs like the Prince-inspired "Make Me Feel" and "Americans."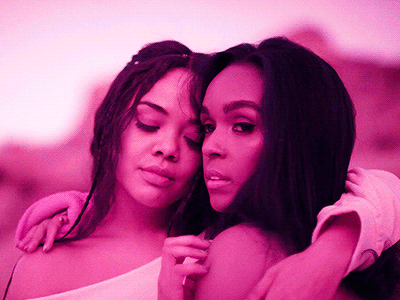 And though the visual can help viewers interpret the storyline, the album has plenty of tracks that stand on their own. Songs like "Screwed" featuring Zoë Kravitz and "Take a Byte" are upbeat, R&B infused tracks you can jam to without context, though the lyrics are worth paying attention to. It's a multidimensional album because it gives you a little of everything — songs to jam to intertwined with unfiltered social commentary as well as thoughtful, slow and mid-tempo ballads.
"Dirty Computer" is the queer cinematic experience that was missing from contemporary pop music, and though it's a love letter to the marginalized, you don't have to be a part of any particular group to appreciate the genius behind the music.