Quakes new era in shape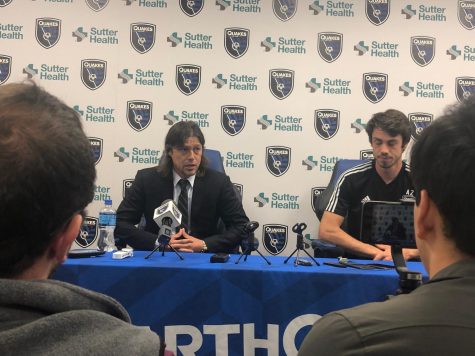 Matias Almeyda's arrival in San Jose lifted the spirits of many fans believing that he was going to be the first step in a positive reformation for the Earthquakes, but he soon found out how big of a job he had taken on.
After starting the season 4-0 and being 14-2, there was reason for the fans to be concerned about Almeyda's four year plan.
His first victory in the MLS didn't come until April 6 against the Portland Timbers in which Cristian Espinoza shone throughout the match, turning provider for Shea Salinas' opener and scoring the third goal, his second of the season.
Since then Almeyda has a 1-1-2 record but what is the most important thing for the Earthquakes is that the goals are finally coming in. A big part of that is the captain, Shea Salinas, coming up big in the recent games. The American has contributed to five goals so far, scoring four and assisting one, the most on the Earthquakes roster.
Almeyda's man-marking system has brought a throwback feeling to this team. While it has taken the team a while to become accustomed to this style of play, it is starting to become effective as shown with the recent results the team has been generating.
Since the win against Portland, the Earthquakes have only conceded four goals in the same amount of games but half of those came against a strong Seattle Sounders team.
The first part of Almeyda's plan is to get his style of play ingrained into the minds of the players, even if the cost is losing games. After Los Angeles Football Club ran riot in San Jose winning 5-0, the former midfielder was determined to keep his style of play despite the results.
"Simply, I am looking for a style of play and even if they were to score 10 goals, I'd have the same mentality because I like a certain style of soccer," he said.
Having a long term plan is something that San Jose has not had. Instead of fighting season by season, Almeyda recognizes that he could build something in San Jose instead of having a good season and struggle for the rest.
This may add on to the frustration that many fans are feeling, but patience is another backbone of any Almeyda team.
Almeyda has just come off the back of rejuvenating a exhausted C.D. Guadalajara team, winning four titles in his three years at the club. The Argentine ended a nine year silverware drought at the club when his team beat Club Leon in the Copa MX. So it's fair to say that with time and patience the team has potential to go far if Almeyda can get the backing he needs.