Football back in full force
As the fall semester begins, the LMC football team is gearing up for the 2017 season and preparing themselves for the season opener against Reedley College Sept. 2.
Last season, the Mustangs finished in second place in the Pacific 7 division with an 8-3 overall record, behind the undefeated Shasta College.
The duo of quarterbacks Gabe Taylor and Sohail Mohsini both finished in the top ten in passing yards and touchdowns per game in the Pacific Seven division. Taylor ranked fifth in rushing touchdowns as well.
Offense had key players like running back Billy Wells, who had the sixth overall rushing yards per game with 53.8 in his junior year. Wide receiver Jacob Puente finished eighth in receiving yards per game and second in receiving touchdowns in his final year with the team as well.
Defense also excelled as freshman linebacker Richie Peralta, sophomore middle linebacker Alex Espinosa, and freshman defensive back Charlie Ramirez Jr. cracked top ten in tackles per game. While linebacker Zach Eckels had the ninth most sacks in the conference in his sophomore year.
Despite the Stangs 28-21 loss last November against the Monterey Lobosat the Rabobank Stadium in Salinas for the Living Breath Foundation Bowl, the Mustangs hope the new season will bring even more success for them.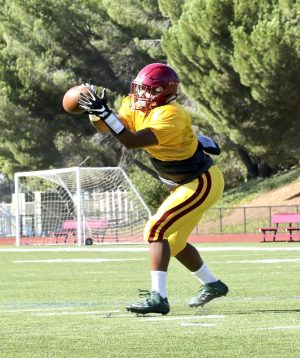 "The most important thing different from this year's team compared to last year's is experience", said head coach Richard Shipe. "Last year we had a large number of sophomores that were huge contributors but we also had a good group of freshmen that contributed as well," Shipe said as he enters his 14th year as a coach at Los Medanos College and sixth as head coach.
"Those Freshmen are now our Sophomore leaders and are doing a great job."
Yet many new faces are also waiting to make an impact on this season and fill the void of the departing sophomore players.
"Those looking good on the defensive side would be Heamasi Latu, Antoine Tanner, Garrett Hart and Shurod Thompson," he said, "and on the offensive side of the ball that are doing a good job so far would be Keenan Norris, Tarif Rivers, EB Rios, and Jordan Montoya" after displaying impressive performances during practice.
The team's first competitive game is on Saturday, Sept.2 against Reedley College at 6 o'clock. It's safe to say that the Mustang's expectations are not much different from most teams competing this season.
"Our goals this year is to win a conference championship and be undefeated at home," said Shipe.
He explained why a conference title is a top priority by saying " it will make it easier for the team to reach our last goal and that's to go back to a a championship bowl game this season."
For more information on the football team, please visit http://www.losmedanos.edu/football/