Soccer team struggles, but has bright future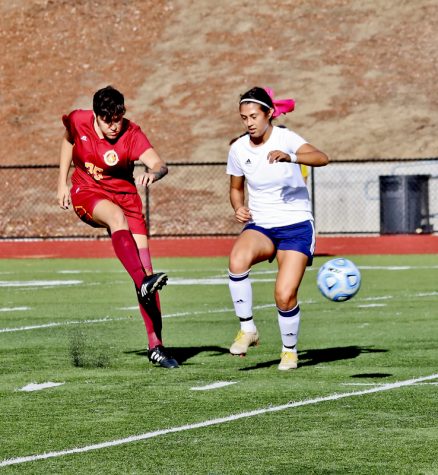 The 2016 season was one full of growing pains for the Los Medanos women's soccer team under first year head coach, Zach Sullivan, but flashed signs of good things to come.
The season started out rocky, as they lost their first three games by a combined score of 32-0. As Zach Sullivan put it, "This season was a year of improvement learning."
Ivette Ayala, Mariah Caitlin, and Carmen Diaz shined as freshmen as they were the top three scorers notching 17, 15, and 11 goals respectively.
This nucleus of young and talented players should help the team take the next step towards being a winning club in year two as their collective 43 goals accounted for sixty three percent of the team's scoring.
Ayala and Diaz joined fellow freshman Vanessa Kualapi for most assists on the team with Ayala and Diaz tied with five and Kualapai close behind with 4.
The team started to flash improvement when then scored their first goals of the season and Sullivan era courtesy of Vanessa Kualapai and Gina Lopez in a tie against Marin.
After a narrow 1-0 defeat at the hands of Napa, LMC notched their first victory on the road against Merritt.
The Stangs again went on a skid after their victory, but Sullivan noted how resilient his team was even during tough times. "I was impressed with how the team came together and how close they were. They stayed positive even in our early games that were lopsided losses. Our commitment at practice got better as the season went on," said Sullivan.
The skid ended with a complete undressing of Napa. Both Caitlin and Ayala finishing the game with a hat trick.
Haley Weder came one goal away from also getting a hat trick as she finished with two goals of her own.
Though the season was mostly marred by losses, Sullivan found a silver lining in how his team played other teams the second time they met. "Our biggest accomplishments are evident in the second time we played some teams in our league. The first time we played Napa we lost 1-0, the second time we beat them 9-0. The first time we played Yuba we lost 11-1, the second time we lost 5-3 and it was tied 3-3 at halftime," said Sullivan.
For as much disappoint there was last season, there is now equal parts excitement for the future as Sullivan "expect[s] us to have a solid group of sophomore leaders next year that will set the tone for the freshman recruits."
For more information on the Los Medanos women's soccer team, visit http://www.losmedanos.edu/Soccer/