All-Star on and off the court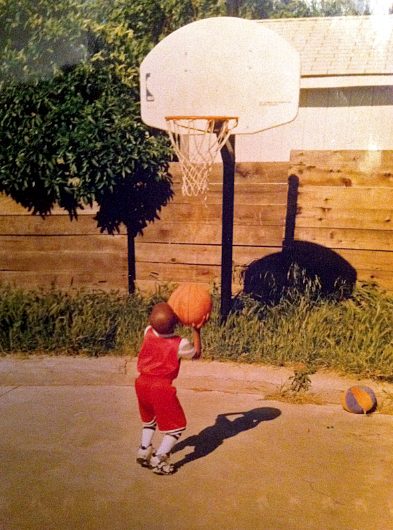 Los Medanos College's star shooting guard Nick Blount displays noble leadership by turning down scholarship offers out of high school to aid to his mother's recovery from breast cancer.
As an only child, Blount grew up in West Pittsburg to Diana and Nelson Blount, a family with strong Christian values.
"We have always tried to encourage him to do the right thing, and to do the best at anything he goes after," said Diana Blount.
Nelson has been Nick's biggest mentor since his passion for hoops began when he was 4-years-old. Nelson noticed at a young age that Nick was a natural shooter. Nick was awarded the nickname "Basketball Jones" for taking a basketball with him wherever he went, even when he went to bed. Nick says his mother and father have both been incredibly supportive since day one and have never missed a game he was in.
When Nick was in eighth grade, he met Andre McPhail at the Amateur Athletic Union. The AAU is one of the largest non-profit sports organizations in the United States, dedicated to the promotion of development of amateur sports programs.
"Andre is my boy," Blount said. "He has the passion for hoops just like I do. He's a funny, goofy, big giant softie with a big heart."
The two teamed up together at Cornerstone Christian School and were a devastating combination. Both of them were racking up over 20 points per game. But the two parted ways when Blount transferred to Freedom High School his junior year while McPhail took his talents to Deer Valley High School. McPhail would later enroll into Buffalo State University and play for the Bull's basketball team.
In Blount's junior year, he shot a perfect game. He did not miss a bucket all night to go 15-for-15 and total 32 points. He even sunk one from half court to beat the half-time buzzer.
During Blount's senior year he was faced with a big decision. He had multiple colleges, including Chico State University and Humboldt State University, attempting to recruit him, but his mother had been diagnosed with breast cancer. Leaving home with his mother in that physical state did not feel right for Blount.
"I'm super nervous," Blount said. "I don't want something to happen to her while I'm gone."
With his mother's illness and a combination of him not being particularly interested in the schools offering him scholarships, Blount decided staying home was the best option.
"When I go to school I'm not trying to get side tracked," Blount said. "All you do in Chico is party, I don't think I could do that every day."
Blount said during his mother's recovery he would not let her lift a finger, and he always made himself available for her. He even drank supplemental drinks containing vegetable minerals, that he described as tasting completely repulsive, to motivate and push his mother to do the same.
"Nicholas was very supportive and very encouraging," said Diana Blount. "And I give God thanks for my family, because without their support I wouldn't be here today."
Now Blount's mother is in remission and plans to make a steady recovery.
In his sophomore season at LMC, Blount scored 25 points per game and grabbed over 10 rebounds a game to earned All-Conference honors. He acomplished all this while dealing with two bone contusions in the wrist of his shooting hand for the second half of the campaign. He was invited to perform at an All-Conference show case in Sacramento, but optioned not to attend so he could give his injured wrist some rest.
Although Blount had a successful tenure as a Mustang, he feels the team underachieved and believes they had the ability to be playoff contenders both seasons he played for them.
Now Blount is receiving countless scholarship offers, and expects to get a load of them in April. But he said he will not be ready to make a decision until May when everything is on the table.
This is what he had to say about Head Coach Derek Domenichelli and his time spent on the LMC hardwood:
"Coach D is super cool, he's just super sarcastic. A lot of people can't handle it, and a lot of people don't like it… I'm going to miss my team; I'm going to miss LMC. I had fun with all those dudes. It's something I'll never forget."
When Blount is finished with college he aspires to play basketball over seas. Eventually he would like to make a bid in the NBA, but before he does that he wants to pursue his long-time dream of displaying his talents across the globe.
"I want to see the world, but still do something I love," Blount said.
Blount loves the game of basketball so much that he can't see himself ever leaving it. When his playing days are over he plans to stick around sports. Right now he is majoring in Kinesiology and wants to become a sports medicine trainer. But for now he is appreciative for the life he lives and is taking everything one step at a time.