LMC Experience wins awards
The Los Medanos College newspaper, the Experience, attended the Journalism Association of Community Colleges (JACC) Northern California Conference Saturday, Nov. 16 at San Jose State University. There were 10 on-the-spot contests, in which two LMC staff members received awards. Introductory journalism student Jordyn Toscano placed first in the on-the-spot Feature Photo contest, and staff member Spencer Batute placed fourth in Opinion Writing. The writing contests were based on a keynote speech by filmmaker Alexander Shebanow, who produced "Fail State," a documentary on the student debt crisis.
Toscano, surprised with the results of the contest, said, "I honestly had no expectation of winning," Toscano said, "I just wanted to enter to challenge myself."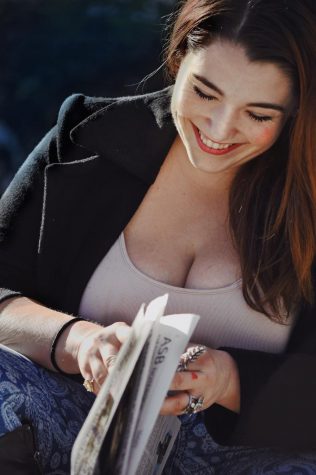 Batute spoke about the contest he entered and reflected how he felt about it. "I was fairly anxious about competing," he explained. "I haven't really put my work up against others in such a direct way before." Once Batute entered the contest room, however, he commented, "Once I sat down to write, things began to flow, and I started to have a good time."
Batute said it was his first time getting an award for journalism. "It felt great to have recognition and gave me a real shot of confidence," he said.
Not only did the Experience place in on-the-spot contests, they also won awards for contest entries submitted last semester, including General Excellence in the Publications Contest where there were 19 awards received.
Former editor-in-chiefs Lilly Montero and Perry Continente won first place in Front Page Layout. Continente, who transferred to CSU Long Beach, won first place in Feature Photo for an image of a duck taken at Los Medanos College; two Honorable Mentions, one in News Photo for an image taken with a drone of the lake on campus and the other in Critical Review for a brewery he visited for Octoberfest. Montero, who also transferred to CSU Long Beach,won third place in Feature Story for a story she wrote about goat yoga.
Former Photo Editor and current correspondent Anthony Martinez won 5 awards – third place in Photo Illustration for an image of immigrants with the flags of their countries silhouetted over their faces; third place in Feature Photo for a photo of a local coffee house; Honorable Mention in News Photo of the Young Americans for Freedom club demolishing a replica inspired by the Berlin Wall; an Honorable Mention in Sports Action Photo for a picture of a baseball player sliding into base; and an Honorable Mention in Environmental Portrait for a photo shot of another baseball player shot at an interesting angle. Former Sports Editor and Current Experience correspondent Jesus Cano won third place in Sports Game Story for his article on the LMC Soccer team winning it's first Bay Valley Conference title.
Former Perspectives Editor Staff Writer Elizabeth McLaurin got second place in Features Story for a story on the LMC Nature Preserve. Experience correspondent Isabelle Ortiz got third place in Illustration for a drawing of a nursing mother. Former Experience Photographer Jacob Mejia received Honorable Mention in Sports Feature Photo for an image portraying the quality of the softball field.
Current Perspectives Editor Dante Harrold received Honorable Mention in Column Writing and former Perspectives Editor Nick Campbell also received Honorable Mention in Column Writing.
Cano was watching a movie when he received word of his third place award for Sports Game Story. "I was just chilling, watching 'Beverly Hills Chihuahua', when my mate Arion from Las Positas sent me a [message] with my name and the award," Cano said.
"I had a feeling the article was going to win something, but I didn't expect it to be entered in this contest, which makes it pretty special," he said.
To commend his experiences with JACC, he said, "JACC has been nothing but great to me." Through the program, he had been able to network with other students and professionals in the field.
Experience adviser Cindy McGrath was very proud of her students' success at JACC. "The staff is filled with dedicated and creative students, and I am proud of the work they do every week," said McGrath. She explained that receiving awards are a nice display of students' efforts, "but the real prize is the experience that will prepare students for transfer to four-year schools."