Auto Tech drives student goals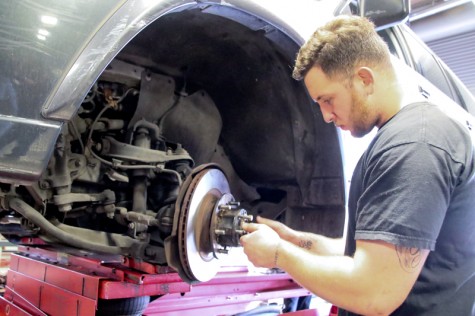 Walking into the Los Medanos College Automotive Technology Program's shop is similar to an actual mechanic shop. Students can be found in groups huddled together working on anything from automatic transmissions and engine blocks to full vehicles while under the supervision of highly experienced instructors.
The shop is located in front of the Parking Lot B and is fully equipped with the technology necessary to educate students on the necessities of today's automotive industry. The goal of the program is to ensure students become Automotive Service Excellence certified, though classes also exist to help those already in the field enhance their skills.
"The students here are given a very realistic experience of what it's like to work in the field," explained Clark Muir, the tool room supervisor, who can be found in the shop setting up appointments for customers and handing out the necessary equipment for students to get their work done.
The program is gives students a chance to experience working with actual customers by having the shop open to the public to bring in vehicles for service. Students are monitored by their instructors to make sure the work being done is without error.
Members of the college community and the public can get their vehicles worked on by students for a considerably lower rate than that charged by outside shops. Customers are not charged for the labor on the vehicle but pay a fee that goes back into program itself. Students work on an average of 20 cars per week and spend about three to five hours per vehicle.
Despite many students and community members being unaware that such a service exists, the services are in high demand and it currently takes three weeks to schedule an appointment.
"The program has been very successful in putting students to work. We are constantly making references to shops and garages in the area," Muir said.
Customers who have brought their vehicles in have been impressed by the professionalism of the student mechanics.
"We've had customers actually more pleased with our work than what they received at an actual shop," said Nick Emigh, a student enrolled in the program.
Students can expect to earn $35,000 a year within a couple years of graduating and a majority of technicians make over $60,000 a year, according to the Automotive Technology section of the LMC website.
Leave a Comment