Job fair highlights industry need
Employers turn out for intern opportunities off campus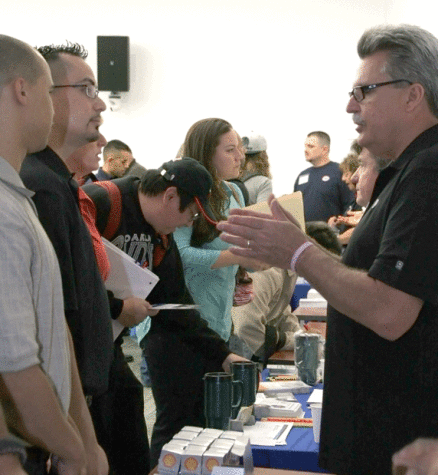 Photos by Cathie Lawrence
Los Medanos College played host to a job fair for its Electrical and Processed Technology programs. In addition to the fair, students in the program were offered chances to obtain summer internships to help them take the next step into the workforce. 
The job fair held on April 23 in the Library Community Room consisted of 20 different employers from the industrial industry present to connect with the over 800 graduating or graduated students that were invited. The fair has been a reoccurring event over the years organized by ETEC Director Cecil Nasworthy and PTEC Director William Cruz. This year the Workforce Development Program stepped in to make it bigger
Tara Sanders, the Workforce Development Program's community partnership liaison, took some of the burden off of the hands of Nasworthy and Cruz.
Networking is important for all students and four years ago it was important to Victor Cornejo at the same job fair. Cornejo graduated from the ETEC program, and thanks to connections he made at the job fair he was able to get a job as a contractor with Phillips 66. A year and a half later he got hired on in an house position.
"If I wasn't here four years ago, I wouldn't be standing here today," he said.
Cornejo spent the day speaking with students on behalf of Phillips 66 as a company ambassador and former student.
Albert Garcia is a current student who hopes to be follow in Cornejo's footprints, and he will take the first step this summer as he interns for USS-POSCO.
Garcia is excited about the opportunity because the reason he is in the ETEC program is because he wants to work for USS-POSC0. He was so eager to get a job that when he heard he would need special cards for security clearance and safety — he went out and got both of them in advance.
"It said (the internship application) if you get an internship you might be required to get these, but I got these before I even started the program," Garcia said.
When he was told he was selected for the internship, it took a while to set in. It was one step closer to where he wants to be.
"It's competitive, a lot of people want in on this," he said. "I'm still in awe, my wife started crying when I told her because she gave me two years to get something out of LMC and she believes more in our future now."
Garcia said he's not sure why he was selected, but Nasworthy believes it is because Garcia is determined.
"Albert is a very determined person he's very diligent and wants to make sure he covers all of his bases," said Nasworthy adding, "POSCO recognizes things like that."
Nasworthy said that he had 34 students in ETEC apply for internships and 10 were selected by the four companies: USS-POSCO, East Bay MUD, Shell and Phillips 66 that the program interns with.
Garcia is one of four interns USS-POSCO is taking this summer, three from ETEC and one from PTEC. If last year is any indication to what is going to happen they all could be looking at jobs when they graduate.
Joann Rowney, human resources coordinator for USS-POSCO, said that they highly promote both programs and all three of the interns from last year will be hired on when they graduate.
"It's a very good program and we've actually hired on the interns from last year and they will be coming on this year after they finish the program," she said.
All three interns from last summer getting hired on with USS-POSCO is evidence that these programs are working, with help from the Workforce Development Program, the ETEC and PTEC programs have no where to go but up.
For information on joining the ETEC and PTEC programs contact Nasworthy at [email protected] or Cruz at [email protected].
View Comments (1)
About the Contributors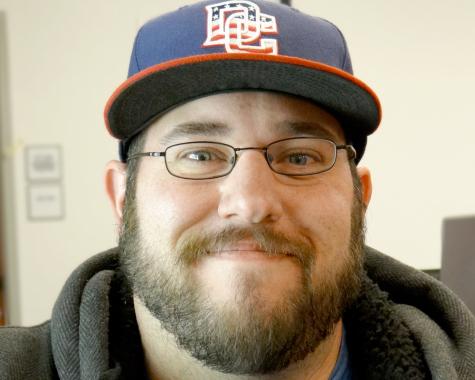 Steven Luke, Sports Editor
My name is Steven Luke and I am currently in my fifth semester at LMC and my third on staff for the LMC Experience. This semester I am the Sports Editor...