Panelists examine past and present of policing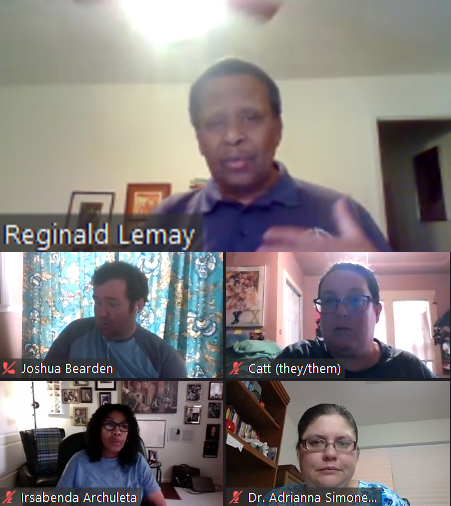 A panel of Los Medanos College Social Science instructors condensed a few centuries worth of policing in the United States into a roughly two-hour presentation on Zoom Sept. 9 in the third of LMC's four-part "Urgent Conversations" series.
From slave patrols in the early 1700s to the militarization of police forces in the 1980s, the panelists went through a timeline of significant moments in policing history, unveiling the progression from its infancy to current events in American society.
While the first two parts of the series covered the history of social protests and culturally relevant teaching, the panelists were in consensus about the importance of understanding the country's history of policing in order to fully comprehend present societal unrest. History Professor Joshua Bearden spoke about the motivating factors for this particular Urgent Conversation.
"We wanted students and faculty and staff and anyone in our district who was interested to understand that yes, they're living in a historical moment … but at the same time there is a long history that led to 2020 and we wanted people to understand that, and to understand that legacy," he said.
The discussion kicked off with Reggie LeMay, who teaches African American and United States History at LMC, explaining early forms of policing. He described slave patrols and the development of formal policing as a response to working class strikes, which were due to increased inequality as urbanization skyrocketed in the early 1800s.
"State police, city police, as it was created throughout much of the 19th Century was really inspired or created as a result of trying to put down many strikes and prevent labor organizers from presenting an organized workforce," said LeMay.
Topics that followed included the discrimination of Irish Americans, succeeded by their eventual acceptance into white culture, desegregation, policing in schools, and the Civil Rights Act of 1964. Of particular note, Senior Library Technician Catherine Wood highlighted the Violent Crime Control and Law Enforcement Act signed into law by President Bill Clinton in 1994. The law was a six-year, $8.8 billion grant aimed at hiring an additional 100,000 police officers nationwide, and Wood spoke of its notable effects.
"We see the number of school resource officers shoot up because they're being funded through federal grants, we see mass incarceration shoot up and start to climb to the numbers we see today," she said.
Another topic of note was the development of more militarized police forces. With so much media coverage of rioting, militarization was a popular topic during breakout sessions, where attendees logged into the discussion could ask questions and comment on the panel's presentation. Assistant Professor of English George Olgin, recounted that his breakout group questioned the optics of such heavily armed police officers.
"Just the idea of engaging an officer that is in this full type of gear, like what is that communal engagement? Or, if this armored vehicle is coming down the street with 12 guys hanging on the edge of it, what kind of vibe does that give off?" he said.
Christina Craig-Chardon, a student from Contra Costa College, said it would be beneficial for college students to understand why there are police officers stationed across college campuses all over the country.
"I think it would be interesting to think about our different college campuses just to bring it to, you know, something tangible for us," she said. "I assume the campuses you are all at have some connection with the local police force or a separate campus police force, I'm sure there are ties between the two, but what is it that we think they should be doing? How do students feel in their presence when they come onto campus?"
Fitting hundreds of years of policing history into just a couple hours is no easy task, and although some topics were a little short on substance as a result, the panel enlightened participants about the role history plays in understanding present-day issues.
The fourth and final part of the series, which will cover "Voting in the US: Past, Present, Future" will take place virtually on Oct. 5 from 2 to 3:30 p.m. If you're interested in attending the presentation, you can register through the Zoom website.