Campuses in CCCCD close
District responds to COVID-19 by moving all classes online
Interim Chancellor Gene Huff sent out a press release to all employees of the Contra Costa Community College District today, March 15, to alert them that all campuses will be closed until further notice.
As it stands all five locations under the district, Contra Costa College, Diablo Valley College-Pleasant Hill and San Ramon, and Los Medanos College Pittsburg and Brentwood will be closed to students as of Monday, March 16.
Students were informed through an email to students in InSite that "all campus locations will be closed to students to minimize the spread of the coronavirus until further notice."
Staff will still be able to access their classrooms on campus to prepare for the switch to online classes for both lecture and lab based material, but only Monday and Tuesday, March 16 and 17.
There are new "high-level plans" put in place over the course of the next few days that staff must follow in response to the impact that the COVID-19 virus is having on the school district.
Those plans are as follows; "All in-person instruction at all sites will be suspended on Monday and Tuesday, March 16 and 17. No on-campus classes are to be held… Beginning Wednesday, March 18, classes will resume, but in remote [online] fashion… All in-person student-facing services will be suspended on Monday and Tuesday including libraries, counseling, financial aid, admissions and records, and instructional support activities… All other operational support functions will continue to operate as normal next Monday and Tuesday. This includes bookstores and child care center and cafeteria functions not related to instruction… If you are ill, stay home."
Confirmed cases of the COVID-19 virus rose from 11 to 29 this past weekend in Contra Costa County. Although no students or employees of the district have been confirmed to have contracted the virus, the district is taking precautions to keep the community as safe as possible.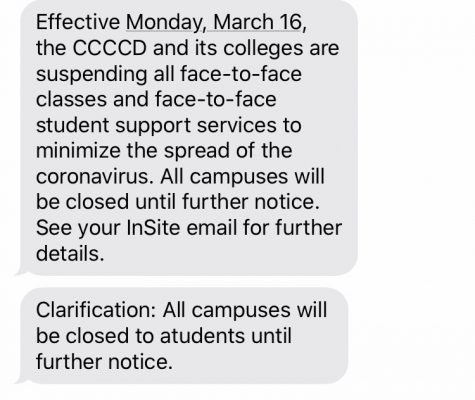 "As of today, March 15, 2020, we continue to have zero confirmed cases of students or employees with the coronavirus (COVID-19) in the Contra Costa Community College District. However, the rapidly changing community dynamics, particularly over the past 24 hours, and the lack of adequate testing to verify our communities' health status, have made it clear that we must take proactive steps to ensure the health of students and employees,"
For more information and updates on what the district is doing to combat the COVID-19 virus, please visit http://www.4cd.edu/covid19/default.aspx