The man behind the mystery
Russian 'hat guy' revealed
He is immediately recognizable to any student who has passed through the main College Complex building. He puts great effort into his signature wardrobe of polished gray leather boots, a freshly pressed shirt and tie, a crisp replica style German naval officer coat, numerous gold signet rings and bands on his fingers, and his unmistakable Russian ushanka hat complete with hammer and sickle emblem.
He is referred to as "The Russian Hat Guy" among students, but a few know him as Giancarlo Smargiasso.
For someone so distinctly defined by his style, Smargiasso's clothes have less to do with a passion for Russia and more with his personal connections to the articles themselves. The hat was given to him by a good friend from Russia enlisted in the Special Forces. The coat is a replica style of the one his uncle wore in the German Navy during WWII. And the boots, he admits, are a joke to tie the ensemble together. Considering that John is actually German and Italian, perhaps the joke is that his hat is most out of place.
When you speak with Smargiasso, his passion and intelligence for mechanical, computer and appliance repair is apparent. It is his favorite subject and he can speak at length about wire schematics and motor control boards in appliances that he can map out with expensive engineering-grade software.
Samrgiasso, 24, has been enrolled in Los Medanos College's appliance repair program since late 2012 and he loves it.
"I learn something new every day," he said, "I think it's a great program to be in."
Smargiasso's ability was not always recognized, however. He was placed into special education from the time he was in preschool up to and throughout high school.
"I had a little bit trouble reading but other than that everything was fine," he said.
The trouble did not affect his ability to learn. From the time he was five years old his favorite television programs were History Channel war documentaries and his favorite reading material was National Geographic.
Smargiasso was so infatuated with history at a young age that for a fifth grade project about anyone he would like to meet, living or dead, he chose to do an in-depth presentation on the WWI fighter pilot, The Red Baron. His classmates did not recognize the man.
"All they knew was that he was the guy on the pizza box," Smargiasso laughed.
In a more reserved tone, Smargiasso spoke about how he experienced occasional bullying in school but that he had the help of an influential friend.
"In middle school Mikey Galvin was always there if I had problems," Smargiasso said reverently. "He would pat me on the back and tell me I was going to have a good day."
Smargiasso recalled that Galvin always wore a purple suit and people called him "The Boss," a name which Smargiasso has adopted his inner circle. Mikey was obsessed with auto repair and he often spoke of owning his own repair business in the future. His style and ambition had a lasting effect on Smargiasso.
During high school Smargiasso came across a used set of turn tables a neighbor was throwing out and he took them home and began to teach himself how to DJ. Smargiasso's hope was that he, along with his classmates, could film a music video and use it to sell party balloons but the venture did not take off.
"People were judgmental of us because we were in special ed," he said.
Undeterred, Smargiasso grew ever passionate about operating his own business. He would often hike in the hills by his home in Pittsburg and that is where he frequently came across old abandoned machines.
"That's what got me into wrenching on things" said Smargiasso, "I use to go up in the hills and take apart old cars, TVs and computers. It just gave me something to do."
Smargiasso quickly developed a technique for dismantling the machines, each time learning more and more about how they were put together. He claims to have scrapped more than 48 microwaves and 65 televisions since he began and has not once been electrocuted by the numerous capacitors which can store dangerous amounts of electricity–surely a testament to his ability.
Friend Anthony Salazar said Smargiasso has "always had drive and self-determination," and compares him to "a walking almanac of information."
Smargiasso hopes one day to take that storehouse of information and bet on his talent in Nevada.
"My main goal is to move out to Las Vegas and become a slot machine technician," he said.
Smargiasso graduates from the appliance repair program at the end of the current spring semester and hopes to become a teacher's assistant in the class he is currently taking so he can continue to hone his technique while saving up money for the move.
In the meantime, Smargiasso is happy to offer his services to anyone looking for a repair technician. His business is what he likes to talk about and he said his clothes are part of his image as a businessman.
"It's supposed to be an eye-catcher to market my business," Smargiasso said, "but it's also to show people I'm not a bum off the street who doesn't know what he's doing."
Smargiasso is noticeably proud of his abilities.
"I am a good hard-working business man, and I don't mind getting my hands dirty," he said adding, "My motto is I do not refuse work."
Smargiasso, The Russian Hat Guy, can often be found on the third floor of the main College Complex all day Tuesdays and Thursdays, or in his appliance repair class in Room CC503 working on his passion.
View Comments (2)
About the Contributor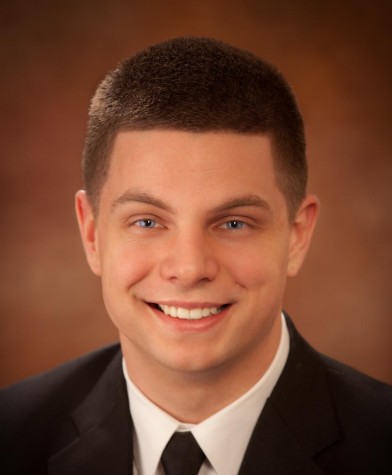 Luke Johnson, Special Projects
Luke "The Scoop" Johnson began writing for The Experience in the fall of 2012. He acquired a passion for sports journalism in high school where he was...