Mediator to aid LMCAS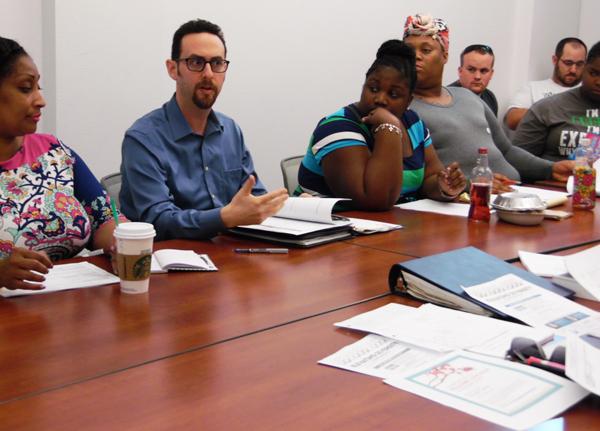 Formal discussion on the recently withdrawn sanction of Los Medanos College Associated Students President Gary Walker continued March 16, when the senate decided to hold a private meeting to combat professional conflict among its members.
The unanimous decision will allow persons directly involved with the sanction — Walker and signatories of the original sanction letter — to meet with a mediator to hash out their grievances toward one another.
Mediation, suggested by Dean of Student Success Dave Belman at the March 9 meeting, was chosen as an alternative to sanctioning Walker; but the format of such mediation was not selected at that time.
At Monday's meeting, Walker presented the senate with four options on how to move forward with mediation:
A public mediation that includes all senators, at a regularly scheduled senate meeting.
A private mediation of senate officers only.
A private mediation with all parties involved in the conflict.
A private mediation with signatories of the letter only.
Vice President Diona Shelbourne — who was appointed into her new position following Candice Tidwell's resignation at the March 9 meeting — made a motion to select option three, a private mediation with all parties involved.
While she was not opposed to a public setting, Shelbourne said she felt a closed session would be more appropriate.
"I wouldn't have any opposition to actually having it as a public forum … because the issue has already been out in the public and the public has had their say in the matter, but I do think it needs to be an issue with our senate," she said. "I feel like it wouldn't matter either way."
AS Sen. Jesse Rosalez called for an amendment to Shelbourne's motion stipulating that if a private mediation was chosen, a report-out should be made to bring the entirety of the senate up to speed on progress made as a result of meeting.
AS Adviser Demetria Lawrence, who was not in attendance for the March 16 meeting, was not listed as a participant for any mediation options.
This omission is in spite of Walker's revelation from a previous meeting of a personal divide between he and Lawrence.
"[Lawrence] is not involved in the mediation plans because we are a student lead organization," said Walker about the decision not to have Lawrence be a part of the discussion.
"The sanction letter did not mention any personality conflicts between us," he said, adding,  "However, the conflict between [us] at a particular meeting was a driving force behind [the signatories'] reasoning to try and sanction me."
Walker declined to further comment on Lawrence, adding, "I am dealing with the conflict between us on a different level with the college and wish to not speak about the details at this time."
AS Commissioner for Publicity and Outreach Katia Padilla — who was elected during the meeting after a vacancy opened following Sable Horton's appointment as commissioner of campus events — advocated for a closed session between involved parties due to a lack of knowledge on her part of the situation.
"They know exactly what and why they wrote the letter and maybe it could be something easily resolved if they figure the differences between it being personal or professional," she said.
AS Sergeant at Arms Yetunde Ogunleye — who after losing out to Padilla for the outreach position was appointed by Walker — agreed with Padilla, and showed support for Rosalez's amendment.
"I wasn't opposed to having the mediation open to the public, especially considering the amount of publicity the sanction got and the wide-spread interest surrounding it," she said.
After little further discussion, the board voted unanimously to accept both amendment and mediation choice.
"I feel the motion that passed was a perfect fit for all the senators' needs because it keeps the other senators that aren't involved in the loop," said Ogunleye.
Of the four signatories of the sanction letter sent to Walker Feb. 20, only two remain on the senate.
Former sen. Taima Miller resigned at the March 16 meeting, citing a conflicting work schedule.
After Tidwell's resignation the week prior, only Shelbourne and Horton — who moved into a new role as per AS bylaws rules of succession — remain to meet with Walker in the closed session meeting.
The senate's next move will be to decide on a date for mediation.
In keeping with Rosalez's amendment, the group will report back the results of mediation to the senate at a following meeting.
"I look forward to chalking this up as a learning experience and move forward with advocating for our students," said Walker. "I am looking forward in working through our conflicts so we can end the semester strong."
Leave a Comment
About the Contributors
Joseph Delano, Contributor
Hi! My name is Joseph Delano. I am 27-years-old, hailing all the way from Bethel Island. I have been at Los Medanos College for 8 years… for you math...
Jazmine Gordon, Photo Editor
Hello, my name is Jazmine Gordon. I am currently one photo editor. I have been on staff for several years now. I was perspectives editor for three 3 semesters....