Living his American dream
Jesus Cano's inspiring pursuit to become a sports journalist.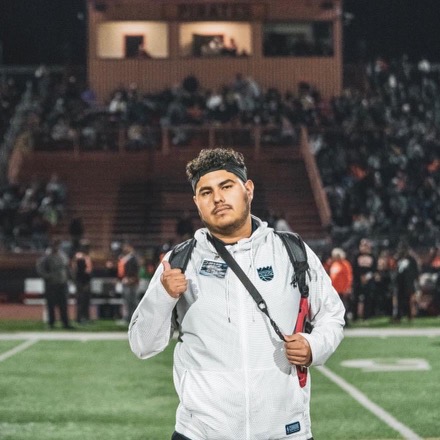 Jesus "Juice" Cano, a journalist for the Collegiate at Fresno State University, has found success in his pursuit of a sports journalism career. However, the former Los Medanos College Experience editor did not have an easy path towards his goals.
Cano came to the United States as a toddler. He was born in Pachuca, Mexico, but has lived in Pittsburg, California for as long as he could remember.
"I've lived in Pittsburg for 19 years," said Cano.
Since he enjoyed playing sports, especially soccer, Cano found an interest in sports journalism at Pittsburg High School.
"I always loved sports and I always knew I wanted to get a job involving sports. Being able to talk and write about sports is a dream I wanted to live," he said, adding his dream led him to seek an opportunity to cover high school sports at the age of 15.
"
Not everyone will make millions or have a lot of money in play. I may not be able to buy a lambo or a house on the waterfront, but I will always be happy being able to do something I love
— Jesus Cano
Cano got his first chance to cover athletics with Delta Sports thanks to former LMC Experience Sports Editor Luke Johnson, who mentored him and helped him connect with the organization Johnson covered high school sports at the time and this encouraged Cano to reach out for an opportunity to become a sports journalist.
"He taught me a lot about writing structure," he said. "He helped mentor me and build my skills as a journalist."
Cano gained valuable experience as a high school student, and has continued writing about sports through college at LMC and now at Fresno State.
"I covered high school sports and started with Pittsburg High School. I was doing softball, soccer, football, tennis, and just about all sports at Pittsburg. After that I covered the Bay Valley Athletic League and all sports boys and girls. I've been doing this for 6 years," he said.
During Cano's senior year of high school, he applied to a couple of four-year colleges including his first choice, Fresno State. But things didn't workout as planned.
"I got denied by San Jose and Fresno State. I really wanted to attend Fresno State, however I think I wouldn't have been able to attend because of finances. That's why I am thankful for the community college route," he said.
He majored in Journalism at LMC, becoming sports editor, and was honored with sports writing awards from the Journalism Association of Community Colleges. He finally reached his goal of attending Fresno State when he transferred there as a junior this past fall.
As an undocumented student, Cano has been provided opportunities under the Deferred Action for Childhood Arrivals program, that have allowed him to pursue his dreams — he was able to acquire a driver's license, apply for a job and receive aid to cover school costs.
"If I was undocumented I wouldn't be able to get a job. I have been fortunate to be protected and not be deported," he said. "I am able to pay in-state fees and not worry about paying international fees which is huge for me. I hope I can get my green card in the future."
Despite the odds, Cano has been able to live out his dream to attend Fresno State and cover collegiate sports. He moved to Fresno during the pandemic and is a double major in journalism and public relations.
"I feel happy being able to cover Fresno State sports and I feel blessed to be here. It took a lot of work and there were a lot of things that came into play to get here," said Cano. "It is surreal being able to attend Fresno State. Being able to drive past Bulldog Stadium and remember Derek Carr and Devante Adams' highlights when they attended college."

Cano has been able to gain some notable experiences in the field of journalism throughout his journey. He covered state championships in California, the San Jose Earthquakes and Fresno State vs. UNLV at Allegiant Stadium.
"Getting to live my dreams in journalism is huge for me but getting to interact with players, coaches, and fans — I've never been to Las Vegas before so it was a new experience for me," he said.
Cano acknowledges there are challenges in the field of journalism, but remains optimistic.
"Not everyone will make millions or have a lot of money in play. I may not be able to buy a lambo or a house on the waterfront, but I will always be happy being able to do something I love."
Leave a Comment