Cricket: the 19-year-old graffiti artist
To most, Luke Thomas is just an average Los Medanos College liberal arts major fresh out of high school. But to a handful of people he is known as Cricket, a 19-year-old future graffiti artist.
Graffiti is a controversial art form that has made its way to urban and suburban areas around the world. In the last 30 years it has been going through a transitional phase from vandalism to art.
"The only thing that separates us from older accepted art is where we put it," said Thomas, who has been tagging since he was 12.
Thomas, of Brentwood, explained that there are several types of graffiti:
Tagging is the most primitive form, he said, and consists of quick single-colored graffiti. Throw up is similar but consists of some more color and takes more time. Blockbuster is the type of graffiti that comes to mind most frequently and features big block letters.
A wild can be described as abstract words that become consumed within the art and they are usually hard to read. Besides lettered graffiti, many artists paint murals which they can make money from.
"Heaven Graffiti is my favorite form but I don't do it. It's usually any kind of work on a really hard to reach place like the side of a bridge," he said adding that his go-to style was blockbuster.
From an early age he would cover exams and notes with doodles of the teacher and the "ideas that exploded out of my mind," he said.
"The first time I really tried something legit was when I was 12. I rode five miles on my bike to get to the wall I wanted to paint. I tried to take my time but I was shook since it was past midnight, " recalled Thomas.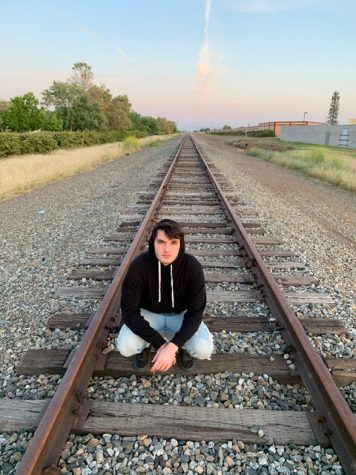 From that day to the age of 15 he worked alone. In 2016 he joined four local teens and they formed their own graffiti group called XTZ, one of dozens of groups in the East Bay like BTS and KYS.
"Usually there isn't beef between crews unless it's gang related but I don't fuck with that," he said. "I'm not pretending to be hood or anything, I grew up in a family with a good enough lifestyle."
Creating graffiti with a group was a different artistic experience for Thomas, and it was also where he was tagged with the nickname "Cricket".
"When I first started working with XTZ they thought it was hilarious that I never talked while tagging. I guess I was so used to being alone that I felt like being kinda quiet was my style," he said."From that day till the day I die I'll be known as Cricket to them and a handful of people I've met."
Thomas' family does a lot of traveling, and that gave him the opportunity to meet others who were also involved in his art form. On a trip to East L.A. he became inspired by the Chicano and Hollywood style graffiti he saw around L.A. and wanted to see more.
At 16, after acquainting himself with XTZ, they all decided to go on a graffiti tour. But how were five kids with no money going to explore the nation?
"Jovanny, also called Sergeant, came up with the idea. He told us we could jump on some moving train like it was a cowboy movie. We looked at him like he was stupid but after months of nothing, we did it," said Thomas with a grin on his face that even after-the-fact still exhibits a bit of disbelief.
Thomas and his crew traveled to the South and ended up spending an entire summer visiting a variety of cities and attempting to get back.
"When train hopping there are three tough things a man's gotta deal with," he said."The first is the weather, the second is avoiding cops, and the third is trying to get back home."
"When I got on the train in Pittsburgh we didn't care where it went," he continued. "We got all the way to Meridian Mississippi but we had no idea how to get back. It took about a month just to get back to the Bay."
The South was a necessary experience for the summers to come. After that XTZ went to Washington state in 2018, and then to Chicago in 2019.
"We vowed to never jump on a train again," Thomas said. He recalled that the summers after that we went in Juan's van. We've been thinking of buying some old cruiser style motorcycles to travel but it's all about what I take back home with me – perspective."
In the South he learned about the soul, and the importance of art in a political sense. In Chicago and Washington he gained new knowledge about simplicity and how "you have to be able to free your mind," Thomas explained.
But at home he learned his most important lesson. He learned about the value of new experiences and to surround himself with a variety of people from different backgrounds.
Thomas's style, or as he calls it, "Cricket Style," has smooth lines and focuses on precision. Often he likes to include a nod to history and the culture depending on where he is. He is a storyteller, an anthropologist, when he creates his art.
On this day he is in the back of a strip mall, with a huge canvas consisting of a cinder block wall.
He picks up a rusted spray can, his eyes focus on his canvas. He shakes it as he slowly takes a deep breath.
For the next half hour he works in dead silence. His arms move with his body as he contorts his hips to reach the sides of the concrete block wall. His veins pop out of his arms when he rolls up his sleeves of the ragged hoodie.
After the spraying and the splattering has stopped, he takes a step back and takes his protective mask off. He stares with his iconic silence until he is content.
The wall once blank and bland now reads "Adventurer."