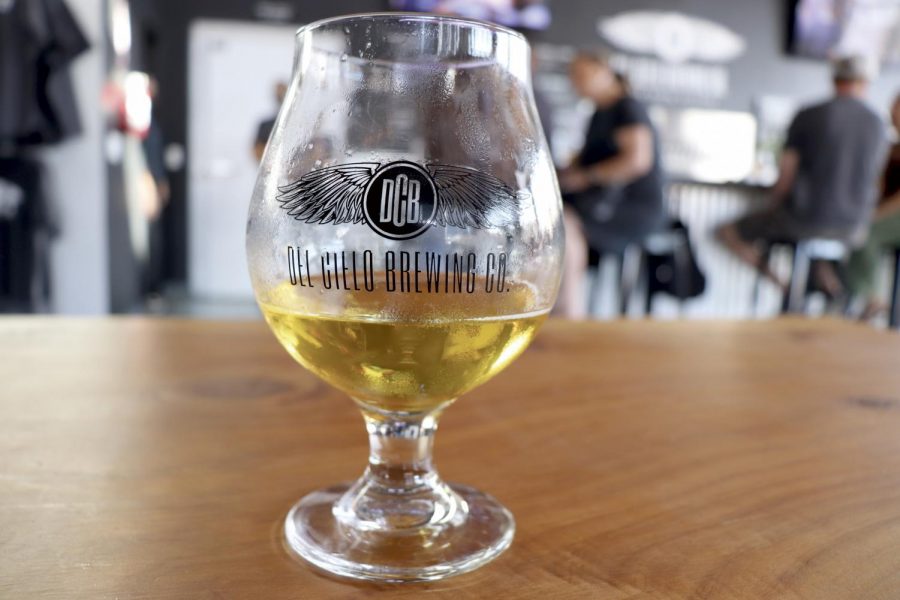 Oktoberfest part 3: Del Cielo
October 24, 2018
For previous brewery reviews click here and here.
Del Cielo Brewing Company in downtown Martinez has quickly become a local fixture. Despite being relatively new, opening in 2017, the brewery is perpetually busy. Contrasting with the old brick exterior, the trendy, spacious, spartan interior makes you feel like you were transported to an Oakland brewery rather than Martinez.
The interior is painted with starkly contrasting black, white and grey shades that pop dramatically. This, coupled with the wonderfully woodworked bar and tables and the mammoth brewing tanks in full view, create an atmosphere that is at once trendy and inviting as well as utilitarian and professional.
This extends even to the metal stands for beer flights that have a delightfully do-it-yourself aesthetic; they are a piece of metal with two 90 degree angles forged into it with the name of the brewery cut out of the vertical layer. The beer rests artfully on top creating a beautiful mix of utilitarianism and minimalist elegance that reflects the whole of the brewery.
The pub also strikes a nice balance between modern and approachable; two flat screens show sports above the bar, but board games are also readily available. The result is a nice mish-mash of clientele with both people looking for a beer after work and hipsters attending.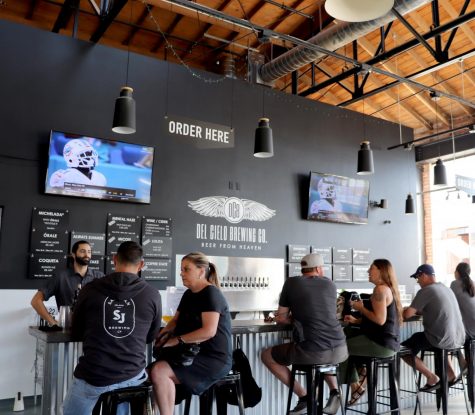 Del Cielo is bustling at nearly every hour that it is open, which is infrequently as the hours are quite limited, open only from 4 to 9 p.m. weekdays with lengthier hours on the weekends.
As the name implies, Del Cielo has a strong Latinx influence with the co-owners being from Colombia and Puerto Rico. These flags are proudly displayed next to the American flag in the brewery.
Del Cielo is pricier than many of its competitors with beers in the 6 to 7$ range, however the quality of the brews makes the case for charging a higher price
The beer featured at Del Cielo, while obviously the biggest draw at such an establishment, still manages to exceed expectations. The brews exhibit an attention to detail in every aspect with nothing feeling unintentional.
This precision can be most easily seen in the Mexican lager "Órale," which is maybe the finest beer in its style I have ever had. The smell is citrusy and inviting with a hint of spice. Each flavor blends from one to the next with no off flavors and ends with a clean and refreshing finish.
Lagers require more care to brew than ales with temperature control, pH balance and brew time all having a much smaller margin for error. Because of this, it is often said that you can judge a brewery's quality based on its lagers. By this metric, Del Cielo is world class.
The rest of the tap list is similar in quality with each beer having a carefully curated taste to it. The brewers clearly put intense thought and effort into every one of the brews and the result is fantastic.
IPAs are also featured heavily with predominantly hazy, dry hopped brews being featured that bring a intense hop flavor without much bitterness.
The "Hazy and Loss" is a prime example coming loaded with juicy citrus flavor and ending in a clean dry finish.
Del Cielo is a rising star in the East Bay brewery scene and should be visited by anyone even remotely interested in beer.