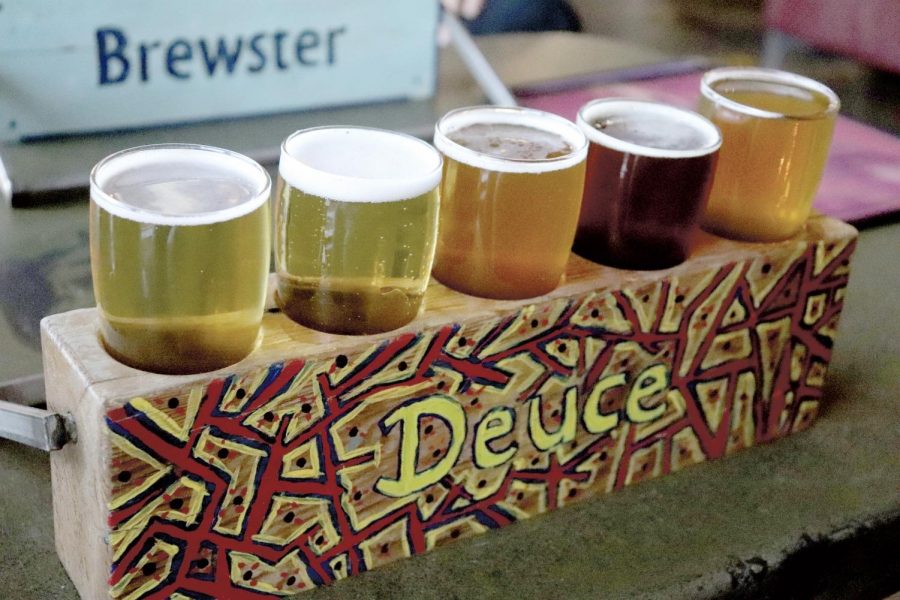 Oktoberfest part 2: E.J. Phair
October 11, 2018
For the first in the Oktoberfest series click here!
When looking for experimental, cutting edge beer people don't often think of Pittsburg. Which is a shame, given that E.J. Phair is brewing some truly unique beer and pushing the boundaries of the beverage, while also serving up fantastic pizza from their wood fire oven.
This pizza is the standout item on their surprisingly urbane menu that features typical pub fare alongside more upscale options like pear salads, sandwiches and locally sourced sausage.
Pizzas are fired in an authentic wood fire oven, with fantastic hand tossed dough resulting in crusts that steal the show. Often arriving with a slight char on parts of the crust, the extra color adds a delightful nutty flavor to the pies. Texturally they are crispy on the outside, fluffy on the inside all while maintaining their structural integrity to hold the high quality toppings.
The mountainous salads are similarly high quality with fresh, colorful verdant ingredients combining with light vinaigrettes resulting in salads way better than you'd expect from a bar.
The biggest problem with the menu is that nothing else rises to the level of the pizza and salad, being middling to above average dishes instead of fantastic ones.
The menu is complimented by the eclectic but charming interior.
The brewery located in old downtown Pittsburg, is warm and welcoming inside, massive, brightly lit and often packed with cheerful people. A foosball table adorns one corner while a wall has two antique sheds with picnic tables and dart boards. Towards the center are a few large tables and red leather couches.
This hodgepodge of tones and styles is somehow cohesive and adds to the quirky charm of the restaurant. While there are several flat screens adorning E.J. Phair, it is not a traditional sports bar — counterbalancing all of the TVs are almost enough books to fill a library adorning shelves and arranged in almost every available surface around the brewery.
Another interesting stylistic choice is the decision for every beer to have a hand painted placard advertising the brew with unique artwork. Some examples include "Facepuncher IPA," which has a dark background speckled with lights, and "SMaSH series #2" featuring a pattern of sharp colorful triangles that look like a smashed kaleidoscope.
There is even a wall showcasing both past beers and their respective art where all of the boards are hung up stretching almost all the way to the ceiling.
And what beer it is, with some truly experimental brews such as "Chili Chili Bang Bang," a pilsner brewed with pasilla peppers carrying much of their spiciness. This is most apparent in the smell, which is pure unadulterated pepper. The beer itself is crisp and refreshing, as befits a pilsner, but the finish has a slight spice that livens up the beer without compromising its refreshing nature.
Another atypical beer is "Nifty 150," a beer that attempts to mimic the flavor of a stout while keeping the coloration of a pilsner. The beer doesn't perfectly recreate a stout, causing the drinker to take a step back and reevaluate what they just drank.
The juxtaposition of flavor and visuals, while technically impressive and interesting, result in a beer way too chocolaty and lacking in complexity. The brewery seems to think so too as it is priced at an absurdly low $3 a pint.
Happy hour brings other fantastic deals like any house beer priced at a mere 4$, a steal for fantastic and award winning beers like "Shorty's revenge," an English strong ale that marries malty sweetness with a complex bitterness unlike anything served in the area.
E.J. Phair's welcoming atmosphere, inexpensive beer and surprisingly fantastic menu makes it a must visit for anyone interested in the depth and breadth of what beer has to offer or simply interested in a good meal.