Uchis polishes sound
Hang on for a minute...we're trying to find some more stories you might like.
Imagine for a moment the vintage sounds of gliding, 70s guitar drips, crystalline synths, sine pads, the smooth vocal stylings of Yukimi Nagano and Amy Winehouse, sung of course to melodies that are both somber and sanguine, and done with an approach to R&B, soul, reggaeton, electronica and funk. These will become the defining sounds of "Isolation", the debut album from artist Kali Uchis.
Until now the 24-year-old Colombian-American singer/songwriter has perhaps been most well known for her feature on the Grammy-nominated song "Get You" by Daniel Caesar as well as past collaborations with the hip-hop artist Tyler, The Creator. But she has also proven herself before with her own two previous musical works: the mixtape "Drunken Babble" (2012) and the EP "Por Vida" (2015) respectively, testing her range in the realms of neo-soul, pop, electronic, and R&B.
The album is supported by its three main singles: "Tyrant" featuring Jorja Smith, "Nuestro Planeta" featuring Reykon, and "After the Storm" featuring Tyler, the Creator and Bootsy Collins.
"Isolation" opens with "Body Language (Intro)", a pleasant loungey arrangement courtesy of the artist Thundercat, with Kali Uchis floating by vocally while listeners are treated to a few of the main lyrical themes that will occur throughout the album — frustration, departure, and the shortcoming of failed relationships as well as the personal growth that comes with it.
Introductions can be deceiving. That said, the album truly takes off with the second track, "Miami" featuring BIA, when production picks up pace yet still remains down-tempo. The track opens with chirpy digital notes that dirge in the background until the song is over, while the singer reflects briefly on what has come put of past ambitions and how far she's come as well as the new person she has developed into.
Things begin to change sonically with the next track, "Just A Stranger" featuring Steve Lacy, both in song and production. The track goes upbeat even further, but has a distinctly more electronic sound accompanied with lyrics suggestive of living a life that's fast and either rejecting those who can't keep up or pushing away people because of it.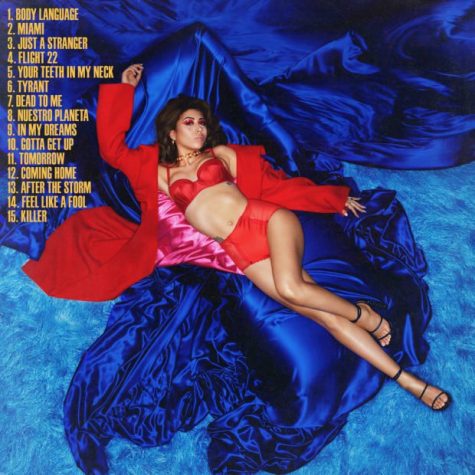 However, the album takes an underwhelming turn with "Flight 22", which, while easy on the ears in terms of arrangement, just comes across as a bit old-hat, like an effort to create an "oldies" style ballad with vibrato-tone guitars, string sections and all.
The rest of the album can be seen as a series of innovative ideas sandwiched between polished yet safer takes on the kind of material the artist has re
leased in the past. Of course, this isn't to say that safe equals bad, just that it's passable and not exceptional which can perhaps be the main criticism of some of the music on
the album when compared to some of its more standout moments.
Despite these criticisms, the good greatly outweighs the bad and Kali Uchis has shown her ability to branch out, and quite free-flowingly at that, into other ways of delivering her music sonically while also demonstrating her remarkable taste in collaborators.