A marvelous DareDevil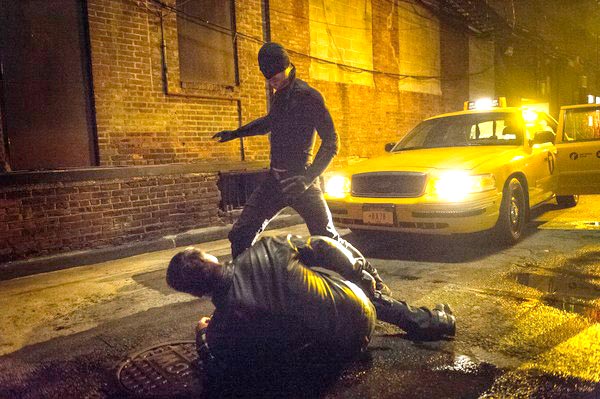 To say that Netflix's newest series Daredevil may very well be its best would be an extreme understatement. My love for the reboot of one of my favorite Marvel characters satisfies all my cravings that still lingered after the disappointing Affleck-driven monstrosity from 2003.
I appreciate when a storyline gets to be gritty, grisly and everything else that is generally lacking in the more widely accepted, family-friendly formats like movies and cable television, where toned-down content is preferred to draw a larger number of viewers. I mean, are you really going to see the protagonist stab someone in the eye on the Fox network?
To me that dark and somewhat questionable behavior is not only justified, it's necessary when telling stories of horrible crimes. So when Netflix announced the series, I got very excited.
Led by Charlie Cox ("Stardust") as Matthew Murdock/Daredevil, the show gives the audience what it has been lacking in many comic book adaptations of late, blood and gore.
Netflix definitely has no problem with graphic shows. Have you seen Hemlock Grove?
Cox is stellar, playing two roles as blind lawyer Murdock and nighttime vigilante Daredevil.
He works with nurse Claire Temple, portrayed by Rosario Dawson ("Rent") at night and law firm co-workers Franklin "Foggy" Nelson and Karen Page, portrayed by Elden Henson ("Mighty Ducks") and Deborah Ann Woll ("True Blood,") during the day to make New York City a better place.
Although all of the actors excel in portraying their characters, the real choice acting comes from Vincent D'Onofrio ("Law and Order: Criminal Intent") as Wilson Fisk, the villain of the series.
Fisk is a quiet man of terrible power, capable of a great and scary evil, but strangely entrancing. The kind of guy you wouldn't expect to have just crushed someone's skull with his hands.
Unfortunately for our hero Daredevil, Fisk's temperament makes him seem like a good guy.
Murdock must figure out how to use the legal system to stop the evil plans of Fisk and his flunkies before they come to fruition. Where the legal system fails, the devil comes out to pick up the slack.
Having seen 10 of the 13 48-59 minute episodes, I am already dying for more and dreading the end, which I'm sure will not disappoint.
Who cares about Game of Thrones when this amazing newcomer is available. For those who have already downloaded the leaked torrent Thrones episodes, you can surely quench your thirst for more quality programming by bingeing on Daredevil.
Just be careful and pace yourself. Who am I kidding? Consume it all, and then kick yourself as you wait for the surely-approved second, third and fourth seasons.
Leave a Comment
About the Contributor
Joseph Delano, Contributor
Hi! My name is Joseph Delano. I am 27-years-old, hailing all the way from Bethel Island. I have been at Los Medanos College for 8 years… for you math...